IT'S THE LAST EPISODE BEFORE
WRESTLEMANIA
, FOLKS! And I'm more hyped than I thought I would be, honestly. Last week's episode was a bore, so I just knew everything would explode at our faces at the last minute.
That last segment was interesting and was probably my favorite part of the show. Not only did it end up in a violent brawl, but Paul Heyman also announced that he and Brock Lesnar would leave
RAW
if Roman Reigns won on Monday (Manila time). He even mentioned that Lesnar would go back to UFC, while Reigns talked about being a full-timer... err, this has been getting realer than ever—a much better build than their match last time, in my opinion.
I think what's getting me excited about this match is the hope I continue to hold on to that Brock Lesnar will finally let go of the Universal Title. Props to Reigns, though, because he's managed to change my opinion on him from 0 to 100 after, like, one promo.
Stephanie McMahon and Triple H faced the team of Kurt Angle and Ronda Rousey in a, err, weird Q&A thing. They had a good exchange of words, even though words aren't exactly Ronda's forte. Trips and Steph were incredibly punchable, so that was good, too. It actually made me genuinely angry when Steph got to put Ronda through a table. I swear, I'm convinced that Steph is the nastiest bitch on earth... and she is probably my biggest inspiration in life.
This segment was probably the most anticipated segment of the night, because it was the last chance for Undertaker to give John Cena his response for the match at WrestleMania. Cena got the crowd so involved in it, which probably got everybody more disappointed when The Undertaker, well, didn't show up.
I think there was no better way to go about this segment. It's different. Toying with the crowd's emotions make for better responses, anyway—I think Taker would have one of the biggest pops of his life when he does show up on Monday. But aside from that, it makes people more intrigued as to how John Cena is going to deal with it at
WrestleMania,
and what will finally convince The Undertaker to make an appearance. This one-sided feud, I believe, is so smart and different, but more importantly, it's one that only John Cena can pull off. He was amazing enough to carry and tell the story all by himself, and we all know there's no one better. I'm so,
so
excited for this!
That was arguably the best match Finn Bálor's ever had against Seth Rollins. I'd like to point out that Michael Cole raised a valid concern on commentary with The Miz: how come these two are competing while The Miz doesn't get to do shit? It probably left people to wonder even further as to why Finn and Seth would give 100% in their match only six days before
WrestleMania
. To which Finn Bálor humbly addressed on Twitter:
Save something for 'mania??
Nah... I leave it all out there EVERY night

— Finn Bálor forEVERYone (@FinnBalor) April 3, 2018
There you go. I'll admit, though, I was getting slightly tired of seeing them face each other for the 7263848258th time. Just kidding. That's not possible. What is wrong with you?
You had two of the most talented—and good-looking—guys on the roster, do what they do best. And oh? What was that? Right, that was the sound of my ovaries exploding. It was definitely an entertaining showcase match, and match of the night for sure.
However, I do have to go back about Miz being on commentary. Did you know that his newborn daughter's name is Monroe Sky? Of course you do, because you probably heard him say it about 300 times. My poor brain was getting so confused as to where it should've focused: the amazing and technical match going on in the ring, or The Miz's delusional commentary?
I don't think we've ever seen him act this nice in our lives. He spoke strangely highly of Seth and Finn, kept saying that he was so excited for the match and hyped everyone else along with him. Wait... Wha? What did the baby do to him?! It's like he got blindsided. Something is pretty fishy about all this...
Overall, this was a solid go-home show. It was segment-heavy to really get the drama rolling for the matches at WrestleMania, and even included a treat in Finn Bálor and Seth Rollins. I mean, most of the other matches weren't worth it, but the segments really did make up for it. I'm incredibly satisfied with the cliffhangers for some feuds—I love how they didn't give everything away here and I think leaving some questions unanswered is smart thing to do if people want a memorable WrestleMania. The show left me doing a happy dance, similar to the GIF below: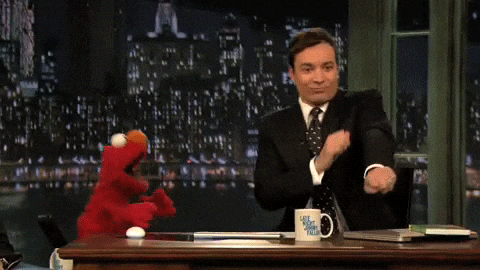 So I think that's pretty good, right? I grade this a... *drum roll, please* an A! Hurray! Ha! That rhymed!
Ok. I'm sorry I'm so lame. I'm just really excited for 'Mania.
Quick Hitters:
I'd like to think people actually read my articles and followed my advice on Ronda Rousey's makeup situation from last week.
Can someone please explain to me how Braun Strowman can be both funny and terrifying all at the same time?
You just know WrestleMania's coming up when RAW plays good video packages and match vignettes even from the other brand.
Ha! You thought the Women's Battle Royal was going to be your pee break? Think again. You wouldn't want to miss Sasha Banks and Bayley kill each other. I guess adding their compelling feud to a match like this wasn't as bad as I thought it would be.
Last-minute pro tip: get all who you think is the obvious winner at WrestleMania, and place bets for literally all the opposites. And that's how you win!

Photos by WWE