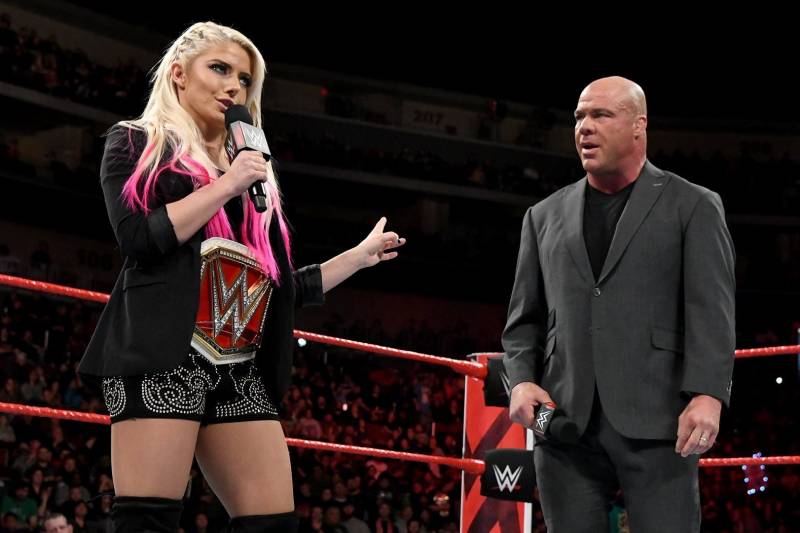 The build towards
Elimination Chamber
continues this week with two more qualifying matches between The Miz and Apollo Crews, and between Roman Reigns and Bray Wyatt—and with what I mentioned in last week's review, these matches are a perfect examples of unfair booking if you compare it to Finn Bálor vs. John Cena. I mean, you can guess who won these, right? If you can't, there is seriously something wrong with you.
There's one thing in this episode that particularly stuck out to me and that I found really wrong: why did we have a Triple Threat match to determine who gets to enter the Chamber last? What about the other guys who are also part of the Elimination Chamber match? How is that fair?! Not saying they should've done double duty—it's just not their fault they were booked for a qualifying match the week after. This could've been done in some type of a tournament that would spread out in the weeks to come. I mean, since we're on the road to the pay-per-view, anyway.
With that said—way to go, commentary team, to be discreet about this year's Chamber winner. They kept insisting how most Superstars who came out in one of the last two spots win the match... Which most likely means that this year's winner will be one of those who'd come out first. Look who definitely wasn't even considered to be part of the Triple Threat match. Hint: he's a canine. And also large.
Now, the match wasn't anything memorable in particular, except for the fact that Elias pinned John Cena clean. Yes, my jaw dropped, too. I feel like they're building a potential Elias win in everyone's eyes, only to have someone else *cough* take all of that away with just one spear.
Another thing that sticked out to me during the excruciatingly boring episode was Alexa Bliss' promo with Kurt Angle in the ring. Ok, even as a woman, I couldn't keep my eyes off of Alexa—she looked extra, extra pretty, and all the plus points for her promo's amazing delivery. She, hands down, is the best on the mic in today's women's division, and she shined bright in that segment. It's safe to say it's one of my favorites.
Alexa made a very valid point in comparing herself with the men's big champ, Brock Lesnar, demanding answers as to why she has to defend her title inside the Chamber and not Lesnar. She embarrassed the crap out of Kurt Angle from what almost felt like a pretty shoot-y promo, and I absolutely adore women who can get "OHHHHH" reactions from the crowd. Tell 'em, girl!
About the women's Elimination Chamber match itself: not having qualifying matches like the men emphasizes that they're the minority who are trying very hard to be perceived as equal as their male counterparts. There clearly aren't enough girls for this, which diminishes the suspense of who gets to enter it—they're heavily clinging on to the historic factor of things to invite people to tune in. Once all of these "first times" are over with, they ought to switch it up and come up with real compelling storylines for gimmick matches like these.
I'm glad to see that they're trying, though, with Alexa trying to sketchily create alliances with Mickie James to weasel her way to retain the title, as well as the little trouble in paradise we're seeing between the besties Sasha Banks and Bayley. The women did well at the
Royal Rumble,
so I don't doubt them this time around—but with two out of five participants being the newbies from Absolution who aren't even relevant enough to have their own themes, I'm starting to raise an eyebrow.
Still on the same note, we had three women's matches on this week's episode of
RAW
. THREE. That's got to be a record somewhere. I think it's an awesome and revolutionary thing—but they oughta make additions to their roster if they're working on having just as many matches as the men. I'll say quickly, though, that Asuka vs. Bayley was good, but not as good as last week's Asuka vs. Sasha Banks.
Switching gears, it really looks like my man, Seth Rollins, is planning on going solo and onto bigger and better things, when they kept insisting that it was going to be his and Jason Jordan's last chance at the RAW Tag Team Championships. In this final chapter in the tag title picture, Jordan's injury led to him being replaced by the Big Dog but the former was still able to interfere in the match and ruin everything as usual. I'm not sure at this point if Rollins is going to completely disconnect from him, or turn this frustration into a feud against the General Manager's spoiled son in the near future.
And that's pretty much all I have to say. The episode revolved around the road to the
Elimination Chamber,
continuing to slowly hype the pay-per-view, but the rest felt a little useless and I haven't been
this
bored watching a
RAW
episode in quite a while. I give it an
F+
, because I could totally live without having to watch this episode at all. That plus I added is solely for Alexa Bliss.
Quick Hitters
The Cruiserweights are back on RAW! I was right: they needed a really short break from all the drama, and got their shit together with a new General Manager—and with the recent reports of Vince McMahon dropping 205 Live all to Triple H, expect the purple brand to soar!
I find it a little damaging to The Revival to be self-proclaimed tag team specialists, and then just lose to a team that's not even a regular one in Bálor and Anderson.
Photos by WWE