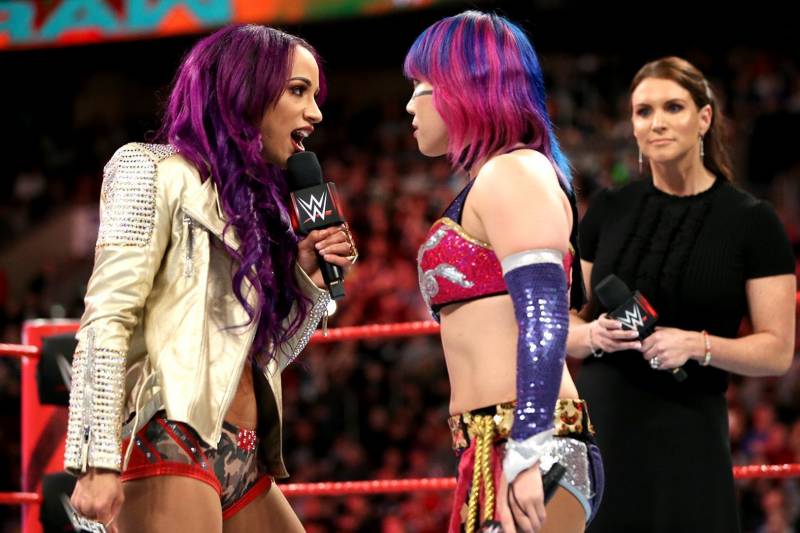 It's the
RAW
after the
Royal Rumble
, and we're officially on the Road To
WrestleMania
! This episode in particular is always one to look forward to because it's usually the one where they expose the cats out of the bag from the night before. New storylines, new called-up
NXT
Superstars, as well as answers to burning questions are what people are anticipating, making this episode must-watch.
Unfortunately, I didn't see much of that in this slightly disappointing post-
Rumble RAW,
which took away a lot of the momentum from the amazing pay-per-view that we were blessed with just the preceding night. We did, however, get new graphics (yay?) and a not-so-new commentator, Johnathan Coachman! That's exciting, right?
The first half was boring as hell, with Stephanie McMahon opening the show, recapping the historic Women's Royal Rumble Match and quickly announced a women's
Elimination Chamber
match! Wait, what? Already?! I'm still trying to recover from the stroke I was so close to having the day before. This is like Steal Asuka's Thunder Part II. Anyway, the Rumble's winner, Asuka, was introduced out and I thought, "oh, here we go—she either gets to finally pick which championship to go after, or, this is the part where Ronda comes out and cuts a promo. Woohoo!"
Nope
.
I
still
don't freaking know what Asuka's plans are, and I
still
don't know what the heck Ronda wants because she didn't show up. This was the episode to do just that—you know... for continuity? And instead of riding the momentum, perhaps even creating an explosive feud—can you imagine Asuka telling Ronda something like "at least I still have my streak!"—they made people wait and let that momentum die down. The audience isn't going to be as interested next week as they were this week, and I don't understand why they didn't take advantage of that. Oh well.
Speaking of the women, however, this was an episode where Sasha Banks almost died. Without Ronda around, Sasha went to interrupt Asuka and her moment, which led to their match later that night. It was a brutal and amazing match to say the least, with both competitors bringing a lot out of each other and executing extremely risky spots. This match would've easily been welcomed on any pay-per-view as an instant classic. But Sasha, you need to be a little more careful with how you land if you care about career longevity...
We moved on almost completely from the
Royal Rumble
and went straight down to business, making this week's card revolving around the
Elimination Chamber
. The second half picked up the pace with some really,
really
fun qualifying matches—okay, mostly the main event of John Cena vs. Finn Bálor. My heart sank at least fifteen times. I didn't know who the heck was going to win it—why can't we have both?!—and every moment was such a nail-biter.
The story told in this match was Cena's simultaneous self-doubt and desperation to be on the
WrestleMania
card—as if he needed to exert any real effort to get that spot. Commentators also kept saying things like "Cena's just trying to reach his dream of going to
WrestleMania
!" What a load of horse shit. Get outta here.
Another Elimination Chamber qualifying match was Braun Strowman vs. Kane in a Last Man Standing match. It's Braun, so don't be surprised that he tipped over some part of the stage. It's a bit fun to watch, but it's getting real old, real fast. And
then
what? More Braun vs. Kane next week? Boo! Where's the champ?!
Speaking of the obvious, isn't it such a raw deal to have had Braun vs. Kane and Elias vs. Matt—ask any 10-year-old their prediction for those, I dare you—but then Bálor got freaking John Cena?! The man is good and works hard, but damn, they could've taken it a little easier on him.
The Miz and Roman Reigns gave us a super entertaining match despite it being like their 50th time or something. It's roughly the same structure every time, but for some reason it didn't get too tiring to watch and still managed to give us all those mini-heart attacks we all long for. The match felt like a bit of a filler to the night's card, but it was
great
filler.
This show did an amazing job in hyping up the
Elimination Chamber
, for sure, albeit forgetting to address a few things from the
Royal Rumble
which had me a little frustrated—or am I just really impatient? Either way, this episode focused a lot on wrestling and most of the matches in this really stacked card were definitely worth watching. I already can't wait for the next pay-per-view! Now, I'd grade this week's episode a B+, but since Seth Rollins wasn't on it for whatever reason, I'll give it a
B-
instead. Yes, I'm that level of petty.
Quick hitters:
NO SETH ROLLINS? WHAT IS WRONG WITH YOU?! Oh, and Jason Jordan, too, I think, yeah, who cares—SETH ROLLINS, THOUGH. Okay, Seth—this is your chance to come out of your cocoon like the majestic little butterfly that you are and fly your pretty little wings towards the Elimination Chamber match and onto the main event of WrestleMania.
No signs of the Cruiserweights anywhere, and it honestly felt slightly refreshing. They have their very own show, with a brand new General Manager, and I feel it's time they focused on that to build their brand and pick themselves up from all the controversy before they can go back as regulars on RAW again.
It was a cute attempt of The Revival to regain momentum by defeating Heath Slater and Rhyno. Watch out, you guys...
Photos by WWE