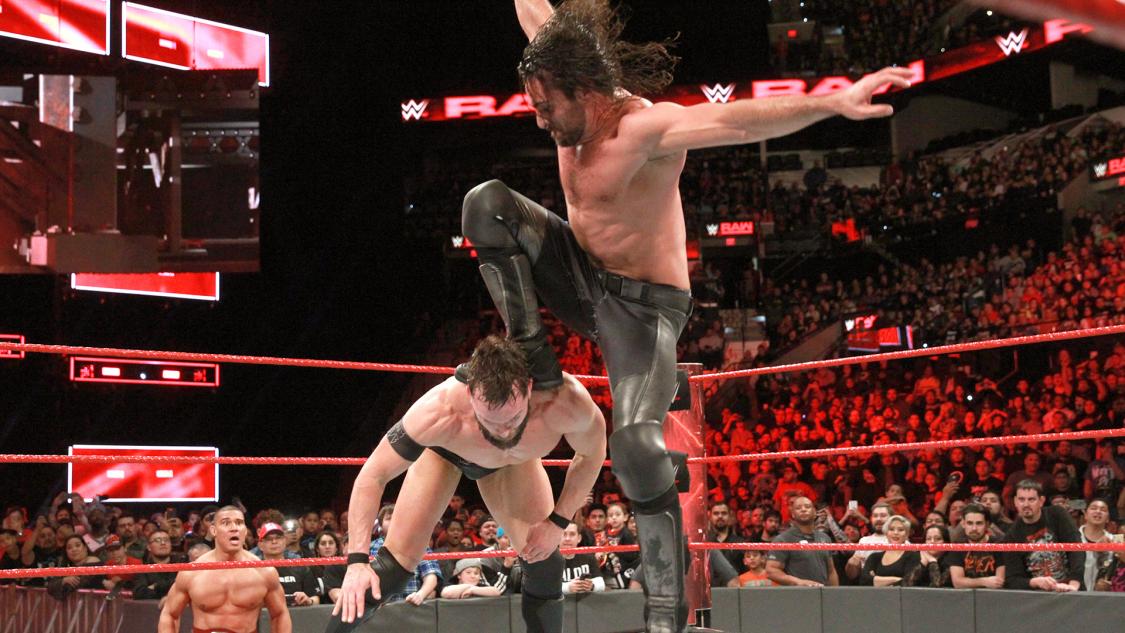 Another week, another episode of
Monday Night RAW
... It's the one right before
RAW 25
, and two weeks before the
Royal Rumble—
and I'm just constantly staring at the clock at this point, making this week feel like
such
a drag. It's basically the last boring episode before the interesting stuff
really
starts.
My world stood completely still when they announced Seth Rollins vs. Finn Bálor for the main event—a sort-of rematch I've been waiting to see for a while now. Finn couldn't stop smiling before the match started and I don't blame him because I would've, too, if I was standing in front of Seth Rollins. Goodbye, ovaries...
The match was great, as expected, and notably picked up the pace in the second half, when Ja—wait, what? WAS THAT A CURB STOMP?!
Ahhhhh!
THE CURB STOMP. IS BACK. But it's called the "Black Out" now? Whatever. Either way, it was a beautifully-executed finish sold perfectly by his opponent—but that apparently wasn't enough for the WWE, as they spent additional whole minutes keeping the camera on a disoriented Finn to emphasize the move. So what do you think convinced Vince McMahon to allow Rollins to use the move again? Why was it even really banned in the first place, then? Tsk, tsk.
The rest of the episode was... eventfully uneventful. Let me explain: all the matches were a yawn-fest and didn't do too much to advance any storylines—it was just more mixing and matching the same guys from their respective storylines. Just like homework that was copied but slightly modified so it wouldn't be too obvious. And then, you had Braun Strowman's story of the night, which was so wild that it almost felt so stupid: got fired, destroyed the facilities, so then he was hired again. On the same night. With no sign of his opponents anywhere.
So what did all of that really do? Yes, it helped show us how much of a terrifying threat the man is, making his potential Universal Championship win more and more of a realistic option. But it's honestly nothing we don't already know, now, is it? Strowman ruining the arena and wasting thousands of WWE's money can admittedly be fun to watch, and I'm not complaining too much about what I saw this week. But all it essentially does is kill time and stall until the next pay-per-view. Meh. Next.
Sheamus and Cesaro keep losing to Titus Worldwide and I can't stress how much I hate this storyline. They're giving it a Jinder Mahal treatment, only on a much lower scale—it just then becomes annoying more than it is shocking. Their matches aren't even
good
. The crowd obviously doesn't care, and it's dragging The Bar down more than it is pulling Titus Worldwide up.
Okay, Asuka vs. Nia Jax did stand out a little bit for me, considering that Nia is the streak's biggest threat thus far. As predicted, the finish protected both competitors, and this has now become the feud we needed. Not sure who's the heel and the face here—I feel like Nia's sitting right on the fence with Alexa Bliss pushing her buttons—but it shouldn't be the end for these two as it would be fun to see how Asuka can keep saving her own ass from Nia without any help. Sweet little Octopus Hold, too.
The main event was clearly the highlight of the entire episode for me, the rest was kind of a blur. Those freaking announcements between segments listing the legends to appear at next week's
RAW 25 totally
didn't help—I then got too distracted feeling all excited for next week, rather than paying attention to what was going on in the present. The matches weren't anything too exciting, and none of the storylines really moved forward. Hmm... Because of that sweet main event, fine, I'll give it a
C+
.
Quick Hitters:
It's been announced that Paige won't be able to compete at the first-ever women's Royal Rumble match, and I'm not sure how she can walk out there without breaking down on stage, sobbing into fetal position. I would.
SHOOT ALERT! The Revival getting real in their promos—if only they can deliver it slightly better to get the crowd even more behind them.
Enzo Amore and Nia Jax are getting super serious here... Pro wrestling is like watching a telenovela.
Not sure how appropriate it was to've reintroduced the Curb Stomp with that new name on Martin Luther King Jr. Day...
Let's play The Price Is Right on that production truck, shall we?
Photos by WWE