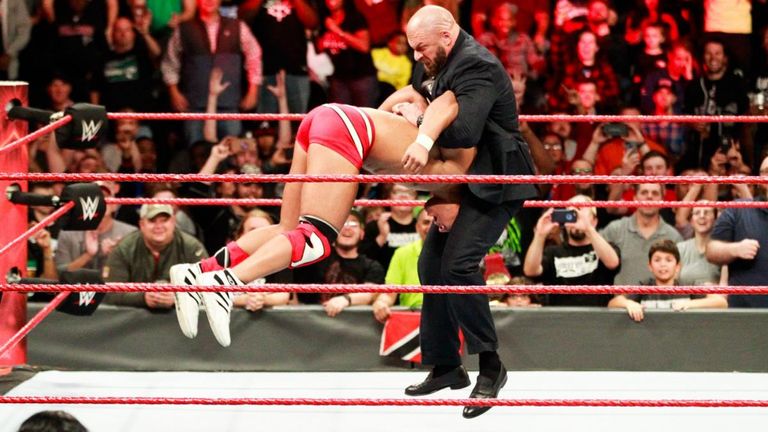 It's the
Survivor Series
go-home episode already? Crap, that went by pretty fast. The road wasn't smooth-sailing with all the challenges we all know the WWE had to face––but we've finally hit our last stop before the pay-per-view, and things seem to have fallen into their rightful places.
The Shield clutched right on time for
Survivor Series
as Roman Reigns made his return on this go-home show after suffering a viral disease. It's crazy how people just suddenly forget they hate Reigns when he's with the group. Anyway, we got the match that we were originally supposed to have at
TLC
, and it wasn't so bad. But it's okay because The Shield has now been given a shot to shine bright at the upcoming pay-per-view against the New Day! We all saw this coming a week ago so I'm sure this didn't surprise anybody; but I'm just thankful it isn't some pre-show match like I feared it would be because this ought to be really good.
Stephanie McMahon once again emasculated the crap out of a scared Kurt Angle, and it was great at first; but honestly, it's starting to get harder and harder to watch every time. I guess she has to tone down the realness just a little bit. This promo in particular wasn't as nice until The Shield came out to interrupt them, which makes sense, since Kurt filled in for Roman at
TLC
. It was a good "you scratch our back, we scratch yours" moment.
The craziest segment from this episode of
RAW
had to be the Jason Jordan meltdown. The whole situation was so sad, no matter how you look at it: kayfabe-wise, yes, the dad stuff made me want to sob into my hair––but you also can't help but feel bad for Jordan in real life who just can't seem to catch a break. Oh how close he was to getting that spot in a huge match, only for it to be taken away from him literally the week after. On top of that, he got booed out the building
and
got buried by the McMahons
simultaneously
. Rough day.
But is this better for Jordan in the long run? It seems like something just isn't clicking, and it doesn't seem like the crowd is into anything he's doing––so maybe all of this is an opportunity for him to go nuts and screw Team
RAW
at
Survivor Series
to retaliate against Triple H, Kurt Angle, and perhaps even the rest of the locker room for never believing in him. Thing is, though, I made the same prediction a long time ago and talked about a great opportunity for him to turn heel somehow, and it never happened. It's why I don't want to rely on it happening this week on the pay-per-view, but we can only hope!
And yes, you heard it correctly, and no, you were not drugged––Triple H is the new fifth and final member for Team
RAW
after he gave Jordan a Pedigree in front of his own father. I had to double-check I wasn't watching a latino telenovela. So, okay, I know I have to save the predictions for another time, but, who the heck is going to win now?! This is an all-star
Survivor Series
match we all thought we'd never see in this modern era. Triple H is back, y'all, and it's pretty exciting. Random, but exciting. Watch your ratings soar sky-high, WWE.
Going back to the crowd, however: they were pretty rude! Can we go back to simpler times when the audience cheered the babyfaces and booed the heels? It messes up the dynamic of the show sometimes and it makes things awkward. And yes, I know what you're thinking––I'm such a hypocrite because I boo Roman Reigns all the time. But I have such a soft spot for Jordan because he looks so innocent and frankly hasn't done anything to deserve it. "But Roman Reigns hasn't done anything to––" Shut up. Point is, stop trying to be so cool, you guys. Jordan showed an impressive amount of personality and emotion during his promo, which proves that he is capable of improvement. Give the poor boy a chance!
On that note, you do not interrupt a Paul Heyman promo. You don't interrupt the show, period. You don't take away everybody's attention on the performance happening in the ring and put it on yourself. Now
that
's selfish. People have a certain time and script to follow, you guys.
Braun Strowman finally craved to destroy Kane in a main event match. The match never officially started, so it was just a regular brawl. This would've been the best and only logical way to go, but their brawl was so slow and so boring, up until they both crashed into the ring and that's literally how the show ended. Will they stay there until
Survivor Series
exactly how Strowman stayed in the garbage truck for two weeks? How does that work? Anyway, it was meh and a waste of a final segment for a go-home show. But I guess it's okay––we still have
SmackDown Live
the next day for
the
brawl we
really
need.
Before the show started, pictures of Paige entering the arena unfortunately surfaced on the internet which ruined the surprise for everybody. Nevertheless, I was so excited for anything related to the women. I was about to pee my pants. I've been waiting for this moment since, well, ever since she left in what seems to be a billion years ago. With all the drama that surrounded her, I'm
so
glad she made the decision for herself to come back for a return we all thought became impossible at some point.
But holy shit, the bitch didn't show up. I was squeezing my teddy bear as tight as I could, I think I would've killed it if it were alive. I was so focused on the triple threat between Bayley, Dana Brooke and Mickie James for the fifth spot on Team
RAW
—so concentrated that I didn't even pay attention to the match. Does that make sense? No, it doesn't. But most of my emotions never do when I watch wrestling, anyway.
When Bayley won, I started swearing. I yelled "CLUTCH!", anticipating Paige's theme. All five women of Team
RAW
stood tall in the ring and at that moment I swear I could've puked. She really didn't show up and I was so overwhelmed with sadness, I felt like punching a wall. Later, however, rumors spread that they changed the plans for her last-minute because she basically spoiled her return for everyone when she posted videos of herself backstage. Come
ON
, girl, get it together, god dammit! So now I wait for
Survivor Series
. This is going to be a long-ass week.
A go-home show done right for the most part. I wish some of the champions focused on their
SmackDown Live
counterparts, but they did more than enough to sell the pay-per-view. I don't know about you, but I'm definitely hooked. I grade this show an
A
!
Quick hitters:
I… Ugh. I…sorta missed Roman Reigns. I think something's wrong with me. I need to see a doctor.
Best part was Seth Rollins' face when Roman Reigns mentioned the time Stephanie went through a table at WrestleMania. It's also the same face you make when your girlfriend finds out about the things you did when you were drunk.
I find it strange to've put Finn Bálor in any match against The Club. Is it just me or is it like they have this super secret alliance going on they don't want anyone else to know about? You know, with their super secret hand sign and stuff. Right––I think it's because they used to be part of, like, some faction, I don't know. Who knows.
Look, I just hope Triple H and Bobby Roode wear different colored trunks on Monday morning, otherwise there's no way I'd be able to tell them apart.
Photos by WWE