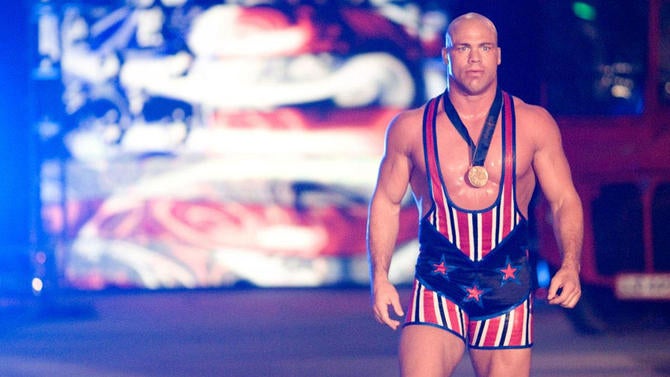 Okay, this has gotten pretty wild and it's getting out of hand. I was supposed to come out with this article on Friday, but thank goodness I didn't, otherwise it would've been useless. Major changes to major matches have been made Saturday morning (Manila time) via social media status posts and it felt like the WWE just suddenly threw a grenade at my face. I didn't need any coffee to wake me up that day.
PRE-SHOW: Sasha Banks vs. Alicia Fox
Having this in the pre-show makes me slightly sad. I'm a huge fan of both wrestlers—they both can play their characters well and can wrestle better than most girls in the locker room. This feud has really good potential and I hope they invest more time into making this storyline as interesting as possible. That said, Alicia's been on fire attacking Sasha backstage, and even getting fined—so I hope
Alicia Fox
gets her revenge and takes the win.
The Brian Kendrick and Jack Gallagher vs. Cedric Alexander and Rich Swann
I'll be honest, I'm not too invested in this one (clearly I need to watch
205 Live
more) but if I had to give a prediction, I'd go with
The Brian Kendrick and Jack Gallagher
just because I have a feeling their feud won't be over anytime soon.
Kalisto vs. Enzo Amore (WWE Cruiserweight Championship)
Another Cruiserweight match on the main card! Good job,
205 Live
. Or is it, "shame on you,
RAW
?" Enzo's storylines in the purple brand were really interesting up until the return of Kalisto. You know what, this is WWE and we all know they love pissing people off, so I'm gonna go with
Enzo Amore
. Let's hope Kalisto doesn't leave the company after that.
With the help of five Cruiserweights Enzo paid off, it isn't too hard to conclude that they'll play a role in this match at
TLC
and help Enzo pick up the win.
Finn Bálor vs. Bray Wyatt AJ Styles
Alright, look. I don't know about you, but I was pretty excited for the original match because they literally wrote down both Superstar's alter-egos on the official match card visuals.
How
was Sister Abigail going to be like? Would she have the same creepy face? What kind of elements of horror will they insert in their match?
I was so pumped for this until rumors started surfacing that Bray hasn't shown up to the live shows in the last couple of weeks due to a viral illness. It explains why there was no in-ring nor physical confrontation between the two competitors on the go-home show. I was curious to see how that would've played out and was wondering if he was going to get better in time for the pay-per-view—clearly not.
This fairly-anticipated gimmick-y match is now flushed down the toilet as Bray has now been replaced by
SmackDown Live
Superstar—I repeat,
SmackDown Live
Superstar on this
RAW
pay-per-view—AJ Styles. First of all… holy shit. Finn Bálor vs. AJ Styles was the match we've always dreamed of but never expected to get any time soon, especially when both Superstars are on two separate brands. But here we go, folks.
It's a shame we have literally zero backstory for this. This is most likely just going to be some kind of filler/showcase match, which ought to be amazing, but would heavily lack drama unless they're able to create it on the spot like the amazing performers they are. The Good Brothers, who are
already
part of
RAW
, are rumored to make an appearance for another big reunion of their own. Yes, all of this is a little weird and sudden, but, I don't seem to hear anybody complaining… I'll go for
Finn B
á
lor
on this one, I guess.

Asuka vs. Emma
It's the long-awaited main roster debut of the Empress, who has been undefeated throughout her entire WWE career. Will Emma finally be the one to give her that first loss? No.
I expect them to have a lengthy match, one that could probably challenge Asuka, but there's no way the latter loses in her debut. Who knows? Emma might give her a quick roll-up and give us a Brock Lesnar vs. Undertaker moment, but, I think it's highly unlikely.
Asuka
all the way!
Alexa Bliss vs. Mickie James (WWE RAW Women's Championship)
Women's match number three, if you include the pre-show! Woohoo! This one will be a shocker and I predict Mickie James will come home with the title. Just kidding. I'm actually really biased with this one because I find the current champion beyond stale and things really need to change—but I have a gut feeling
Alexa Bliss
is going to retain. Sigh...
The Shield Seth Rollins and Dean Ambrose and Kurt Freaking Angle vs. Braun Strowman, The Miz, Kane, Cesaro and Sheamus (3-on-5 TLC Match)
And you thought Kane returning to compete was shocking. Imagine waking up at 5 a.m., checking the time your phone, reading a notification from the WWE app that announces Kurt Angle will be replacing Roman Reigns in the main event of
TLC
. How much swearing am I allowed to do in here? It's like every wrestling fan's brain just spontaneously self-combusted!
That's too much news to drop in a single post. There was no video, no explanation, nothing. No more show before
TLC
. We're going to walk into it, head-first, with Kurt Angle's music hitting after The Shield's and coming out in his signature freaking singlet. Who wants to bet this'll receive a bigger pop than CM Punk's entrance vs. John Cena at
MITB '11
? This is
insane
, you guys.
I can't even tell if this is a good thing or a bad thing. In my opinion, Kurt Angle shouldn't have his returning match this way—just being a random replacement. He should've at least had a decent storyline at a bigger pay-per-view. Maybe the General Manager could've just stuck with General Manager things and given the opportunity to his son, Jason Jordan. Maybe, they should've stuck with a 2-on-5. Just not like this, please!
But for what it's worth, the WWE did an outstanding job getting people to tune in to
TLC
. No wrestling fan would want to miss this.
None
. Hello, ratings and ticket sales! At this point, it's nearly impossible to predict exactly what the heck is going to happen at the pay-per-view, but let's go with
Braun Strowman, The Miz, Kane, Cesaro, and Sheamus
. The face team is clearly outnumbered, and I have a feeling that the next few weeks after
TLC
will be the quest to find remaining team members in time for
Survivor Series
.
It's really sad to see Superstars get pulled out of big events all of a sudden due to dangerous illnesses. WWE Superstars have been known to push through flus, fevers, even certain infections for the sake of entertaining the crowd, especially in a big pay-per-view they are booked in. It's a job wherein you don't just call-in sick when you want to, so having these guys pulled out last minute is a big deal. WWE has not confirmed what these Superstars actually have, but it's rumored to be viral meningitis and threatening to rest of the roster and staff. I've never heard anything like this happen in the years I've been watching WWE! It's crazy and also worrying to see that an illness is putting performers down one by one. Granted, we get pretty breath-taking additions and replacements, but you can't help but ask, "what the f*ck is going on right now?!"
Like I said, they've done a great job at getting people really invested and intrigued enough to take a peek at the pay-per-view, ergo
TLC
now definitely becomes a must-watch show. I can't wait! Who you got?
Photos by WWE