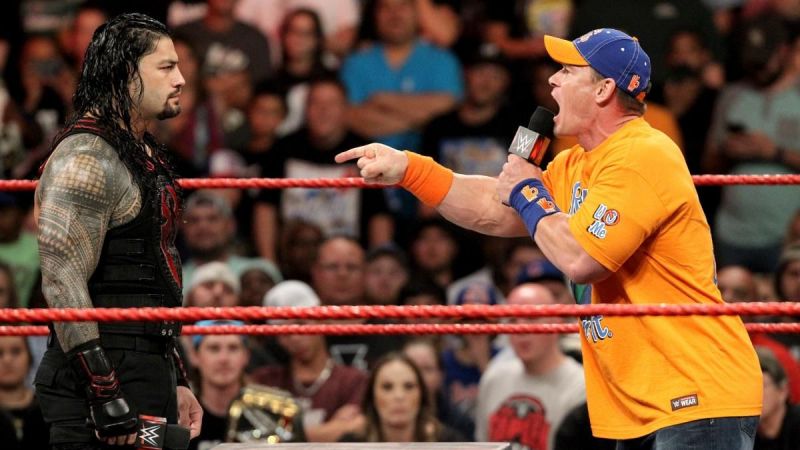 Good morning, and this is the Grapevine! This section of Smark Henry is where we round up all the founded and unfounded rumors abound the pro wrestling scene that you may have missed over the evening.
So you had a little
onscreen tiff between Roman Reigns and John Cena
that sounded a bit too real:
The segment between John Cena and Roman Reigns on this week's RAW was completely scripted. The contract-signing segment that saw Cena and Reigns trade barbs about their real-life IWC reputations may have seemed like both men were shooting straight from the hip, but the things they said to each other were actually written by RAW's creative team. Reigns did actually get lost during his promo, requiring Cena to point it out. (Source: F4WOnline)
We say: There are actually a lot of implications behind this revelation, and none of them are good. Let's just talk about the obvious one here—Reigns forgetting his lines are proof that you're not gonna create a hot worked shoot feud if you're going to continue manufacturing and pushing artificial elements. Reigns and Cena, John most especially, should have just been given talking points and told to let loose. They've already prematurely ejaculated this feud, but there's still time to save it.
Xavier Woods suffered a nasty landing at a SmackDown Live event last Monday. His knee buckled after landing for a tornado DDT, causing the referee to throw up the X symbol for real injuries. However, Woods was still able to accompany Big E and Kofi Kingston in the New Day's match against the Usos this week on SmackDown. (Source: Wrestling Inc)
We say: Let's hope that Woods actually is okay.
This week's SmackDown Live was reportedly supposed to have revealed the identities of Breezango's attackers. However, plans keep changing at the last minute, although this has been the idea for quite some time now. It's entirely possible that the attackers could be Luke Harper and Erick Rowan, but nothing is absolutely confirmed until they're actually revealed. (Source: F4WOnline)
We say: Despite the Fashion Files being great, they really do need to get on with this before it turns into this year's Anonymous RAW GM storyline. Fashion Files' plot needs to move forward already (especially now that they're on their second season) and they're not doing any favors withholding the attackers. More so if it's not really the Ascension.
Let us know what you think of today's news in the comments!
Photo from WWE