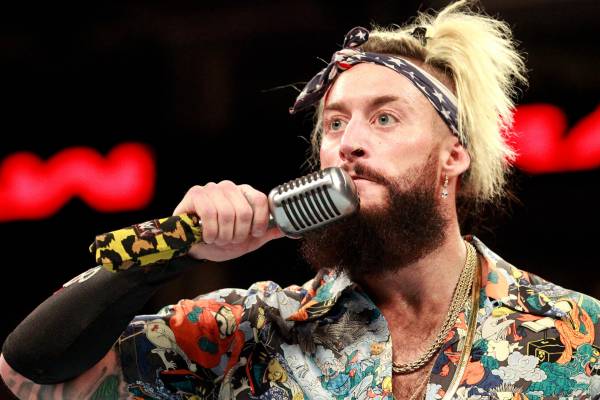 This week was the go-home show for the first ever
Great Balls Of Fire
and it surely delivered more than usual. We came from a very slow episode of
RAW
last week, and like I predicted, it was going to pick up the pace this week. Most matches and segments were worth watching and helped developed the storylines leading to the pay-per-view.
I'm not sure if it's because of his awesome theme song, but opening the show with Enzo Amore made me feel pretty hyped! As usual, he cuts a great promo but shit just got real this time when he went a little more personal with Cass. When he talks about how he made Cass by creating his catchphrases and is the reason for their merchandise sales––all that stuff is so true and it's ironic because it's one of the biggest reasons why I believe they shouldn't have broken up. Enzo was the real personality and the money in their team, and so I wish Cass the best of luck on selling himself in his new future without Enzo by his side because it'll be tough. Without being associated to Enzo, he now has to start all over again: new catchphrases, new merch, new everything!
I admit that Enzo's fire in his promo as well as his attack on Cass backstage later on got me really excited to watch their match at Great Balls Of Fire. Now this, this, is a feud. It has drama, it has suspense, and this last bit before they get it on this Monday (Manila time) gave everybody a reason to stay tuned to watch what happens. Although this is one of RAW's top feuds right now, everything good about it is temporary. Once this feud is over, they'll both probably go their separate ways, and things won't be as interesting anymore. Gosh, it's like the Bella Twins feud all over again. It made no sense, but in the moment Nikki betrayed Brie, I cried because I couldn't believe how dreams came true like that.
Oh, and shout-out to the teardrop tattoo on his face; I'm not sure if it's real or not. I kind of hope not. With this, Enzo claims he 'killed' Cass, but who was the one with the boot on the face last week? And the week before that? Hmm?


Speaking of realistic storylines, Brock Lesnar and Samoa Joe were given the chance to talk to each other live, but with both being in separate rooms. That exchange sounded like it was completely unscripted and I had to ask myself if I was still watching the WWE. They like to do this for Lesnar's feuds because I believe that if you remove the scripts, everything obviously looks more authentic. This way, it makes Lesnar look much more credible and a lot scarier by being the exception to everything. He's the exception to strict exclusivity, work hours as a champion, bleeding rules, charity work, media, and hell, even the show's scripts. Though, if it wasn't for all of those exceptions, Brock Lesnar wouldn't be Brock Lesnar. It's how he sells himself, and we are all
low-key
hooked.
Switching gears, seeing The Miz out first, again, cutting a promo in his suit has been way overdone in the past month. It's become so predictable: Miz is out, talks trash, Ambrose comes out and they try to hit their finishers on each other. Everything is always well-executed, but over time, that can only do so much for a segment formula that is repeated every single week.
That match afterwards with Heath Slater for the Intercontinental Championship was surprisingly long and great, with the Miz ripping his pants at some point (I giggled because he bent down and the whole thing just ripped and it was all caught on camera––there's probably a GIF image of this somewhere). Slater was given the opportunity to actually wrestle a real match, while his partner Rhyno was out there with a part, as well as Bo Dallas and Curtis Axel (now the Miztourage). I love how they've been maximizing the roster and giving them more opportunities ever since the brand split! That Miztourage isn't a bad idea, either, as it makes Miz look more like a cowardly heel who needs help when defending himself. Aside from, you know, giving these jabronis something to do.
Though, I do have to say, that gave just a tad bit more focus on Slater than adding anything relevant to the Ambrose feud. That's the problem, sometimes, when we have a rematch scheduled for the next pay-per-view and it's been pretty much announced four weeks prior: the buildup can be boring and repetitive towards the end. I don't know about you, but I'm not too excited to see Dean Ambrose vs The Miz for the title at Great Balls Of Fire.
2 hours and 59 minutes into the show, I told myself that this episode is doing pretty good! And then Roman Reigns shows up the last minute and I took everything back. So close! Just kidding. Maybe.


Overall, it was a go-home show done right, but to me, it wasn't exceptional, either. So for this solid episode, I give it a solid B!
Quick Hitters:
Did Bayley do something wrong to be punished like this? I love how strong Sasha Banks looked by making the champion tap out, but where the heck was Bayley for the last half of the match?!
Seth Rollins and Bray Wyatt didn't actually face each other this week and it's a little disappointing. I'm not really sure what they're fighting about. Usually, when you're on the cover of the upcoming WWE 2K game, you should be way up there having good feuds to really sell your credibility, and the game itself. What's up, WWE?
Ugh, throw Finn Bálor on that list of the misused, too. Finn Bàlor vs. Cesaro was quite a treat for all real wrestling fans out there (a very nice way to say smarks) and it helped two storylines at once, which is good enough for a go-home show. But in general, I'm not sure this was a great way to bring Bálor back. He was champion and he never lost, and now that he came back, he wasn't even given an automatic title opportunity or anything. He, along with Seth Rollins and Bray Wyatt are top guys who are just absolutely lost right now.
What secret, Kurt Angle?! Please, we need clues. It's been a month-long tease. It's too much already.
Apollo Crews lasted quite a while against Braun Strowman, and no doubt it's because of whatever magic spells Titus casts on his clients to become better. Did you see that part, though, where Apollo Crews was going to go for a standing moonsault and Braun Strowman totally just kicked him halfway across the ring? That made this predictable segment totally worth it. I say predictable because, I mean, if you have someone like Apollo Crews in the main event, know that someone else is going to take all the shine and meaning away from that. And there goes Roman Reigns with the last laugh, at the last minute! I noticed that usually, those with the last laugh before the pay-per-view is the loser. Or I'm just incredibly optimistic like that.
Photos by WWE