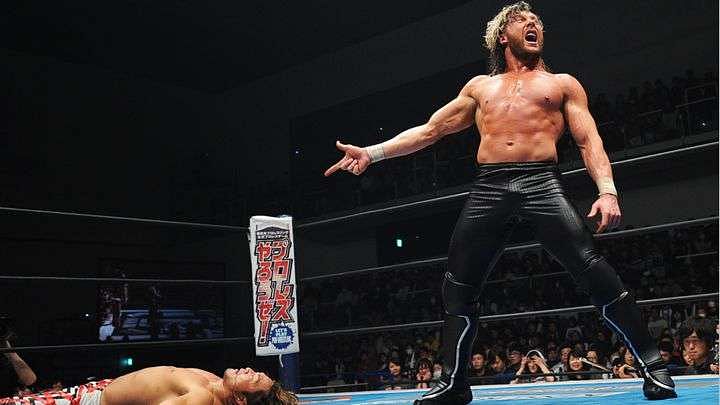 The Smark Henry Midyear Report is a new series where we take a look at the wrestling we watch around the world and assess each show/brand/company's performance in the first six months of 2017.
New Japan Pro Wrestling's first six months have been nothing short of impressive, to say the least. With a legendary championship run by Kazuchika Okada to a continued push for an international expansion, the company continues to legitimize itself on a grander stage, one no other Japanese promotion has been to before. And so far, so good, it seems.
Today, we look back at the crazy first six months and see where the company stands, and what tickled your fancies during an interesting year that is 2017.
Superstar of the Midyear: Kazuchika Okada
Who else, right?
He isn't even in his prime, yet he's currently in the middle of one of the greatest IWGP Heavyweight Championship reigns in history, pitting out elite-tier matches with different wrestlers. From Minoru Suzuki to Kenny Omega, Okada continues to captivate every single time he's been in the ring, while living up to his new status as top ace in an ever-changing wrestling landscape. He's close to breaking Shinya Hashimoto's record for the longest heavyweight championship reign, and on his way to a hall of fame-worthy career.
All this before he reaches 30 years of age. Goddamn.
Rookie of the Midyear: Hirai Kawato
There's just something about Hirai Kawato that makes him special among a sea of unique rookies, especially considering the likes of the physically gifted Katsuya Kitakura and the well-rounded Tomoyuki Oka. For how dedicated this new generation of young lions are, Kawato may be the man with the most upside for having the quality that separates him from the rest: "it."
He has the burning underdog feel that allows him to resonate to the audience, the physical qualities that make him a believable wrestler, and the room for growth that will make him a big star for years to come. If anything, he sounds so much like Kazuchika Okada back when he was a young lion, and look where that got him.
Watch out for this guy. He'll light up the wrestling world in a few years.
Most Improved: Juice Robinson
NJPW did more for Juice Robinson than NXT did, which is a damn shame since WWE let him slip away from their grasp. And if his 2017 is any indication, WWE really did him dirty.
From a prime
Wrestle Kingdom
spot against Cody to an Intercontinental Championship match against Tetsuya Naito, we have not seen New Japan put so much faith to a young foreigner eager to learn since Prince Devitt. He has really come into his own as confident competitor instead of being a jobber to new stars in NXT. And with his current participation in the G1, expect to see more heart and honor for years to come.
The Struggle: Katsuyori Shibata
To be fair, everyone in NJPW has been booked accordingly, so it's not to say anyone has been unfairly used. That said, if we are to define the struggle in its purest form, no one has seen a major downfall in the past few months as Katsuyori Shibata has in his own career, from New Japan Cup winner and heavyweight title contender to a man possibly closing in to an early retirement.
While he earned praise with Okada for an excellent main event at Sakura Genesis, it was at the cost of his health via a subdural hematoma. No one has experienced such a career-threatening situation of such magnitude since Milano Collection AT's sudden retirement.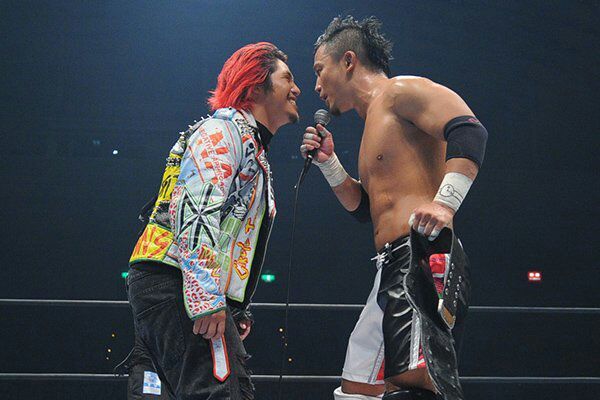 OMG Moment: KUSHIDA/Takahashi II
It is simply too difficult to decide which moment would be the definitive OMG moment of the year given the wild and wacky first half of 2017 we had. It was originally gonna be the Okada/Omega sequel that ended in a draw, which is a rare occurrence itself. But nothing was more shocking and more evident of a star's rise more than Hiromu Tanahashi's quick destruction of KUSHIDA in the IWGP Junior Heavyweight Championship match at
Sakura Genesis.
If anything, the 1:56 bout was the Jr. equivalent of Goldberg/Lesnar at
Survivor Series
, if not better executed.
Though it was KUSHIDA's fault for falling into Hiromu's game, in the end he pulled off what was possibly the shortest title match of its kind. With that, Hiromu solidified himself as a true mainstay in NJPW for years to come.
P.S. #RIPDaryl
WTF Moment: SZKG Shenanigans
While the reintroduction of Suzuki-gun is a breath of fresh air, it seems as though the continued shenanigans of the faction still lingers in some form or another, especially when it comes to outside interferences.
While interferences have been around in NJPW since 2013, the form of interference on the part of SZKG has pretty much hurt instead of helped the quality of some matches. It may be a minor thing at first, but the more you see them pull off these shenanigans, the more you get sick of it. And that's not so much a good thing more often than not.
Story of the Midyear: The Omega/Okada Saga
This year has been way too kind towards Kazuchika Okada and Kenny Omega, two of the most amazing wrestlers in the world who just happened to be employed by NJPW. And in their two big singles matches they had in this year alone, it told a driving story that would continue later in the G1 Climax and, perhaps,
Wrestle Kingdom 12
.
While NJPW continues to hail Omega as the face of their worldwide expansion, it still does not feel that way considering Okada had his number when it mattered the most, with a win and a draw against him. The next chapter will come in the G1 B Block match later next month, an indicator that this story between the faces of modern day NJPW is far from over.
Wrestler to Watch Out For: Juice Robinson
Two awards for one deserving individual? Why not?
Juice is a hot commodity just waiting to break out. His Prince Devitt moment, a time when he becomes the next big
gaijin
star that started from small beginnings, will happen sooner rather than later. Whether he wins his first singles belt or gets a landmark win, it will happen to a hardworking guy that earned his spot, and all of us are going to cheer the hell out of him.
Still a hell of a lot better than an angry environmentalist CJ Parker.
What did you think about NJPW's first six months? Who are you looking forward to for the rest of the year? Sound off in the comments!