It's that time of the year, ladies and gentlemen! That time when New Japan Pro Wrestling hosts arguably the greatest tournament in pro wrestling, the annual G1 Climax! And as usual,
Smark Henry
is here to provide you the preview for the 27th iteration of this respected faceoff, a who's who of wrestling's best.
In a nutshell, the tournament follows a round robin formula with two blocks in the next few weeks, where block members compete for points. The leaders of their respective blocks will go on to the finals on August 13, where the winner will not only etch his name in history as one of the elite few to win the month-long tournament, but in a tradition that began in 2013, the winner will go on to compete for the IWGP Heavyweight Championship at Wrestle Kingdom on January 4, 2018.
Last year's winner, Kenny Omega, became the first non-Asian to win the entire tournament and went on to solidify himself as one of the best wrestlers on the planet today, resulting to his much-heralded six-star matches with Kazuchika Okada.


Previously, we've been doing previews on a per-block basis. But given how big New Japan is lately (case in point: the plentiful fans who are suddenly wearing Bullet Club shirts, NJPW influence felt in various forms of media, and the continued recognition of Okada to the rest of the general populace), we decided to focus on what to watch out for instead of breaking it down per competitor. That way, you will have a general idea of what to expect and know for this year's installment.

As usual, all days will be available on NJPW World for the price of approximately two grande-sized specialty drinks from Starbucks.
A BLOCK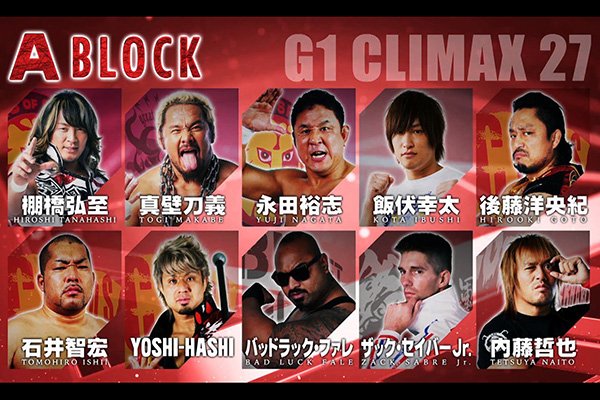 A Block's Five Points:
Tana on Fire
Hiroshi Tanahashi, even if he isn't necessarily as featured as he was in years past, will have the most momentum coming into the tournament with his recent win over Tetsuya Naito for the IWGP Intercontinental Championship. In all likelihood, he will be able to pull off multiple wins and remain on the top of the food chain. As one of the best wrestlers in history, expect him to be involved in some fire matches against various opponents, including an impending rematch against Naito during the tounament.


He may not be in the position of Top Ace anymore, but in the eyes of many, he still is an Ace worthy of any hall of fame.
Yuji Nagata's Sunset
Let this be known: without the contributions of Yuji Nagata back in the day, especially during NJPW's dark days of financial uncertainty, NJPW may highly likely not even exist today. And even after his glory days, he remains one of the most complete wrestlers today even at this age.
So it was sad to hear that this will indeed be Blue Justice's final G1, indicative of his career definitely slowing down at this point. And considering that not long ago, Jushin "Thunder" Liger had his last Best of the Super Junior Tournament, a change in the guard is definitely happening.
So if this is Nagata's last G1, expect him to give it his all in the tournament, with as much fire as he had back in the day.
The Cruiserweight Classic Finals Remix
This year's G1 will host an unexpected match of sorts: a match between the two men who were collectively expected by fans to reach the Finals of last year's WWE Cruiserweight Classic, current freelancer Kota Ibushi and current member of Suzuki-gun, Zack Sabre, Jr. And my, how times have changed.
The Golden Star used to be a member of the NJPW and DDT roster in an unprecedented dual company contract that allows him to be legally part of both rosters. That was, until he sustained an injury that eventually led to him leaving both companies and living out his life as a freelancer, including a brief spell at last year's WWE summer tournament. He recently made his return under the guise of Tiger Mask W, but only today was he officially recognized back into the NJPW fold. What would this mean beyond the G1, only they would know.
On that same time period, Zacky Three Belts has been making a name for himself as the best technical wrestler in the world, a title once held by current SmackDown General Manager Daniel Bryan. And since the cream eventually rises to the top, he managed to win championships all over while finally making it to NJPW as a member of Minoru Suzuki's gang. As the sole representative of SZKG for A Block, it will be interesting to see how the technical heavyweight (since he is very much weighed as a junior) would do against some of NJPW's best.
Imagine, if both these guys signed with WWE, TJP wouldn't probably be the Cruiserweight Champ, but here we are.
YOSHI-HASHI's Time?
Last year was a breakout year for YOSHI-HASHI, who managed to capitalize on the departures of Styles, Nakamura, and the Good Brothers and established himself as a growing singles star. This led to quite a G1 for himself, one that included a surprise win over the eventual winner, Kenny Omega.
With a guy having built quite a stock for himself since then, including a NEVER Openweight title match against Minoru Suzuki much recently, don't be surprised if he continues to pull off major wins during the tournament and build up his momentum even further.
An Eye On Naito
To say that he's had a disappointing few months would be an understatement. Not only did he lose his Intercontinental Championship to Tanahashi at Dominion, but he also failed to get past round one of the tournament to crown the first IWGP United States Champion, having been thwarted by Tomohiro Ishii.
Usually, all signs point to a victory at a grand stage after a string of bad luck, and if NJPW decides to give him a second G1 win given the facts, it wouldn't be too surprising. It was at the 2015 G1 Climax that Naito began his newfound singles renaissance as a member of Los Ingobernables, and for a guy of his talent, you can only keep him down momentarily until he gets back up to grander prominence.
A Block Prediction
Personally, I would want to see Kota Ibushi get this one if only for the reason that would be explained later in this entry. But for the sake of seeing something unexpected, Naito winning would also make sense. Naito has most to gain right now as a singles star, but the one thing that eluded him despite winning every single championship NJPW has to offer is a definitive G1 coup that did not involve him getting the Roman Reigns treatment by fans. In a sense, him winning now would be sweet justice for what happened, and after having lost major matches recently, the G1 would be the best possible starting point to his so-called rebirth after Dominion.
Either way, A Block has some intriguing picks going for it.
B Block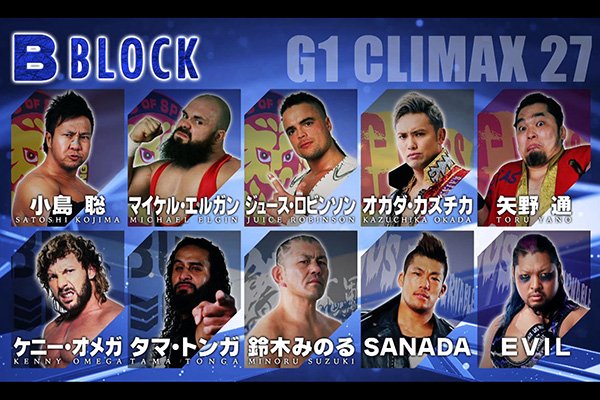 B Block's 5 Points:
Meltzer's Going To Love This
Let's get this out of the way right now: yes, Okada-Omega III will happen on the very last day of the round robin phase of the tournament, and will serve as the last match of the entire thing, a bout between the reigning IWGP Heavyweight Champion and the first ever IWGP United States Champion. The big difference, however, is the fact that they won't be competing for the IWGP Heavyweight Championship. This time, they will compete for two points in the G1 Climax. And as we know historically, it's usually the last day that sets the tone for the finals, and this match will likely determine the fate of B Block.
It was an interesting call for the company to put these two together on the same block, especially given how good their matches have been together. What should have been reserved for the next Wrestle Kingdom is now getting put into the G1, but for all intents and purposes, it makes sense. Omega can get his much-anticipated victory over Okada, putting their series to a tie, and assuming things go well, Omega can use the G1 victory to get one more chance at Okada for the title at Wrestle Kingdom.
But will that happen though? The G1 has been known to pull off unexpected surprises in their matches, so don't be surprised if things ended up very differently because of the surprise wins from unlikely winners (i.e. Yano).
From NXT To G1
Man, CJ Parker Juice Robinson.
If you told me before that CJ Parker, the designated jobber to new stars over in NXT a few years back, would be put in the G1, I would have called you out for joking around. But the now-christened Juice Robinson made the most of his time post-WWE by starting at the bottom of New Japan and rising up to become one of the more popular stars of modern day NJPW.
And now, with a combination of hard work and a bit of luck, not only is he officially a part of the roster, but he also got to compete in the Tokyo Dome and fight for championships. With his G1 participation, his resume is slowly building up in a big way, and like Ishii and YOSHI-HASHI before him, he's sure to make an impression in his first ever G1.
The Return Of A Madman
For two years, we have not seen or felt any presence of Suzuki-gun because of NJPW's involvement with NOAH, depriving us of the wonder that is the pro wrestling and MMA legend (and 24/7 psychopath), Minoru Suzuki. Now, with NJPW and NOAH no longer doing business together, Minoru Suzuki is back and coming into the tournament as the NEVER Openweight Champion. Of course, things have changed since Suzuki-gun was around, and you can expect him to be in multiple first-time scenarios, including encounters with LIJ members EVIL and SANADA, as well as the aforementioned Juice Robinson. And speaking of SANADA...
SANADA On The Spotlight
This cannot be stressed enough: SANADA will always shine as a singles star, and has the track record to prove it in AJPW and Wrestle-1. If anything, the G1, being a singles tournament, is the perfect time for SANADA to demonstrate his singles prowess away from the usual LIJ antics. Remember, as per last year's G1 preview, SANADA is the guy who's never gotten a proper crack at the big time despite his potential. With the block he's in this year, it will be interesting to see him compete against top-tier talent and continue to prove why he deserves to shine even more in a company like NJPW.
Glory to Elgin
Some may have been wondering about the absence of Michael Elgin as of late. That's because the former IWGP Intercontinental Champion is currently busy operating his own/school promotion,
Glory Pro Wrestling
, which features quite a few big names such as current ROH World Champion Cody Rhodes, Naomichi Marufuji, and even Jeff Cobb. But finally, Elgin returns to NJPW and is once again competing in the tournament that arguably changed the course of his career, and it's good for us wrestling fans. Imagine Elgin vs. Suzuki...

Prediction for B Block:
Sometimes, the obvious choice is really the right choice, and if anyone has to win this block, it has to be Kenny Omega. He has been riding a wave of momentum ever since last year's G1 and has remained central to NJPW's worldwide expansion, with him backing it up in the ring. All eyes point to Okada-Omega IV at the Dome, and there is really nowhere else to go after the whole six-star match debacle.
Prediction for the Finals:
In my heart of hearts, I really do wish it will be Ibushi vs. Omega in a rematch to their one-hour DDT Sumo Hall match for the KO-D Openweight Championship in what is very much the prototype to today's Okada-Omega matches. Not to mention, if you recall, it was Omega who screwed over Ibushi in his title match at Invasion Attack 2015 against AJ Styles, and that was never resolved since Ibushi would end up getting injured and leaving NJPW. For dramatic reasons as well as superior chemistry, Ibushi vs. Omega would make the most sense ending this year's G1, and it would be such an emphatic ending. Naito winning his block may have been a viable option, but you can't beat the natural drama and history between the former friends.
Oh, and one more thing...
How to watch the G1 Climax (if you have a life)
Here's the thing you need to know about the G1 Climax, if you're new to this whole thing: there will be a broadcast almost every day for the next few weeks, as both blocks' matches will rotate on the aired shows. And the programming is no slouch, either—NJPW shows are always around or at least three hours, and they don't let up for this at all. It's almost impossible to watch the entire slate from top to bottom unless you're unemployed, have a lot of free time, or writing about it is your day job.
And since we can't all be hikikomori/Dave Meltzer, you're going to have to come up with a plan to keep yourself caught up by the time the tournament gets to the finals on August 13.
We suggest:
If you're watching live, then you've got no choice but to watch the whole thing. You can, however, choose to tune in later, as the first hour is usually multi-man tag matches featuring competitors in the block that isn't having their official G1 matchups on that particular day.
If you're watching on demand, then it's easier for you to skip things you don't want to watch.
Skip the aforementioned opening multi-man tag matches. They take quite a bit of time.
However, cutting out the tag matches still leaves you with a lot of wrestling to watch. Pick three or four (or more, depending on your taste) guys from each block (or the tournament as a whole) you're interested in following and just watch their matches. You'll streamline your viewing experience this way—unless, of course, you're a completionist.
If there's an English option for commentary, go for it if you're new to NJPW. But do also know that there are broadcasts, usually in the middle days of the tournament, without commentary as they are basically televised house shows.
You can catch the G1 Climax at
NJPW World
for only 999 yen (that's around P450). Don't ask us where you can stream it illegally.
So, who do you think is going to win this year's G1? Do you think Omega's gonna win it all again, or someone else deserves a crack at the win? Sound off in the comments!

Images from NJPW