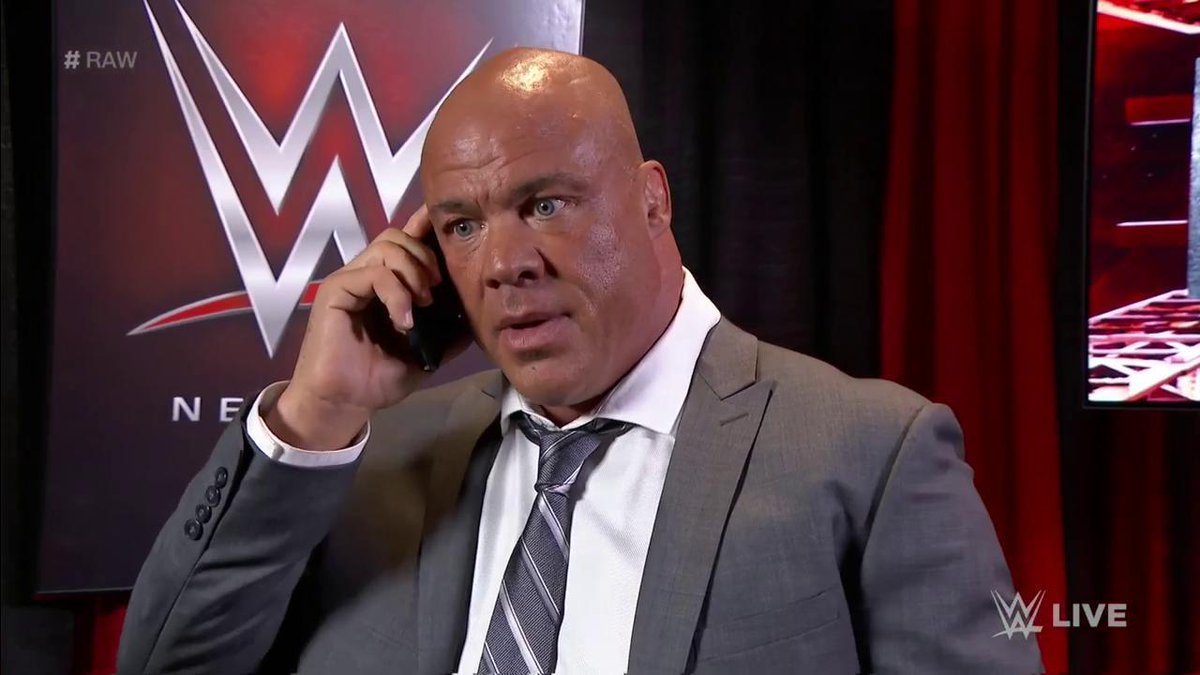 This episode coming off a mediocre Great Balls Of Fire was even more mediocre than said pay-per-view. GBOF had its fair share of good matches (that 30-Minute Iron Man Tag Team match was insanely suspenseful!), but it wasn't a show worth really revisiting. On this week's RAW, while we were given some advances to storylines, a few matches were either already-seen, or just plain boring. One thing I noticed, too, is that it seems as though all the losers from the pay-per-view are the ones benefiting the most. I'm sorry, I didn't know it was Opposite Day today!
It was honestly a bit dreadful. I guess that's what you also get when you have no real controversy to address. Roman Reigns attempted to murder Braun Strowman, yes, I know—but he's Roman Reigns and nobody will ever punish him and the only thing that ever comes out of his mouth is a demand for a title shot. Oh, and "This is my yard." He says that a whole lot, too. Even when he loses. I think what the WWE isn't directly telling us is that Reigns' character is predominantly delusional. Then again, so is the Chairman of the Board...
Anyway, the segment with Kurt Angle, Brock Lesnar with Paul Heyman, Samoa Joe, and yeah, Roman Reigns, was one of the most solid parts of the show, out of two. I don't know what it is that makes officials decide to throw away scripts when it comes to guys like Lesnar, but it makes for amazing TV. After Reigns was asking for a title shot, Lesnar literally replied, "You don't deserve shit". Pass the tissues. So beautiful.
And WWE knows this very well, but they give Reigns these opportunities anyway. Samoa Joe can get his rematch because that's how things are, but Reigns lost his match
and
tried to kill another Superstar at
Great Ball Of Fire
, so now you want to reward him with a shot at the Universal Championship? I was screaming.
To put it nicely, the show sucked ass aside from that segment. It went on all the way up to the main event, until the last minute, when they showed Kurt Angle on the phone saying he'll go public with his secret next week with this secret person. And then he says "I love you." WHAT?! WHO THE HELL?! Is it a woman? Is it a son-figure? The man has kids, why would they make him say "I love you" like that on the phone? They're making it seem like Kurt is cheating and it's crazy. This segment is so far from anything we normally have in this Reality Era and if it is a cheating angle (heh, see what I did there?), I'd say it's a very bold move by the WWE. Children believe this stuff. And some adults, too, unfortunately. I'm sure it's just something they're making us believe so we could feel really hyped for next week, and then they'd reveal a twist. Upon reading reactions online, though, it seems that everyone's first instinct was that it could be Stephanie McMahon, to set up a match between Kurt and Triple H at SummerSlam. Others predict it's the debut of Dixie Carter, former president of TNA to eventually replace Kurt Angle as General Manager. Whatever it is, the "I love you" bit it still so insane to me.
Guys, this story has been bothering me for over a month now and it's finally here. Thank the heavens. It's like following a
telenovela
. The show was the slowest of the slow this week, but they
almost
balanced it out with these bombshells. I don't know about you, but when I watch
RAW
next week during school hours, I'll make sure to enter class with some popcorn. This ought to be good!

Moving on, I think I'm going to throw up if I see another MizTV any time soon. I'm so over it. It was special this week because they had this little awards show, but I swear it's the same formula week after week after week after week. Miz runs his mouth, Ambrose arrives and attacks. Yawn. There's the Shield reunion tease, but I don't know how that's going to happen with Reigns all the way up there getting booed out of the building. But hey, I'm all for it if it means getting Reigns off of the title picture.
And finally, what a way to cut off Big Cass' momentum as a giant than to face him with another giant this early on in his push. Anybody can beat Enzo Amore; they need to establish Cass more before giving him that real challenge. Don't get me wrong, I love the idea of the feud and it's a great way for The Big Show to pass that torch to the next generation of big guys, but it's just a little too early for it. It seems as though they're going for a different approach, making Cass look scared of the The Big Show for his eventual win against the veteran to really mean something.
This isn't a pace you'd expect for the episode right after a pay-per-view. The matches were so forgettable and the only things that made this any good were the segments. With talks about the plans for the Universal Title match, the start of new tag team feuds, and the anticipated reveal of Kurt Angle's secret—we are officially packing our bags for the road to
SummerSlam.
I hope the next few weeks would be filled with more interesting drama. I grade this episode a
C-
!
Quick Hitters:
Okay, so, my Great Balls Of Fire predictions were off, and The Hardy Boyz didn't walk out with the title. But I was right about The Club and The Revival going after them! What's the point, though, if the belts aren't on The Hardys? They're legends, sure, and the others want to prove themselves by beating them—but what do you really benefit from guys who can't seem to beat the current tag team champions after a gazillion tries?­­­­­­­­­­­­­­­­­­­­­­­­­­­­
Seth Rollins loses his Great Balls Of Fire rematch against Bray Wyatt and as much as I like Bray, I don't even know what to think anymore. I guess if it's not your time, then it really isn't your time. People are just not invested. Now what? Rollins, the loser here, seems to be headed towards a shot at the Intercontinental Championship while Wyatt is being left with nothing. Everything's so useless!
Bayley pinned the champion in a forgettable tag match. She really needed that, though. This means there is still hope for Bayley and we could probably see a Fatal 4-Way match for the Women's Championship at SummerSlam. I hope they do much more with her character because people are starting to forget she's there.
We got Elias Samson vs. Finn Bálor on free TV because they knew no one would care enough for them to put it on the pay-per-view card anyway.
Photos by WWE