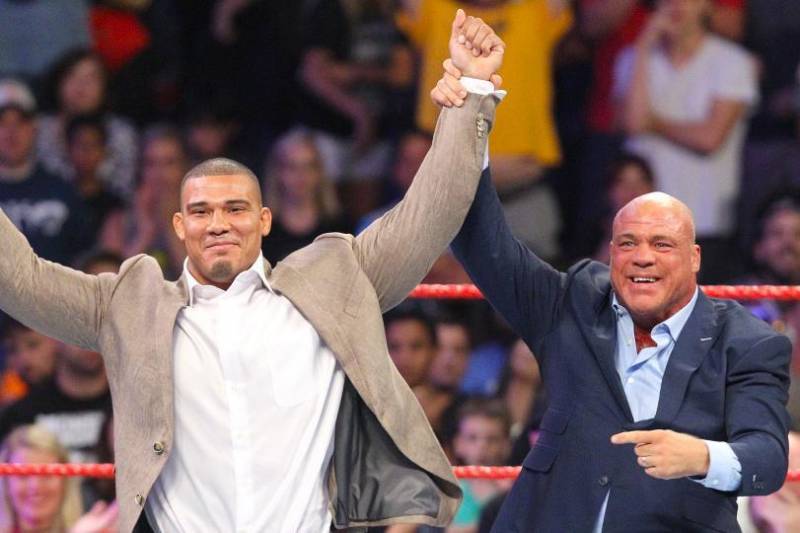 I've never felt so impatient to watch an episode of
RAW
. I kept looking at my calendar and watch only to realize that it was Wednesday and I still had six whole days to go before the next episode.
*twitch*
It was the most brilliant strategy to have announced the secret's reveal for the following week—at the last second, too, like a true series cliffhanger!—because it got everyone hyped enough to watch. Usually, good segments and matches are announced at the beginning of the show, but you wouldn't know that unless you actually take that risk of tuning in.
It was Tuesday morning and finally, D-Day. As the show started live, I just kept wishing there was a way to fast forward time to get straight into the reveal. They inserted that segment two hours in, which means you had to sit down and pay attention to almost everything else just to make sure you don't miss it. I can't stress how great this was on the WWE's part.
They knew how much it worked, too, so they hyped the next episode again by setting up exciting matchups and giving away that piece of the card. We will have a No Disqualification Match between Finn Bálor and Elias Samson, as well as a #1 Contendership match between the besties, Bayley and Sasha Banks, for the opportunity to face Alexa Bliss for the RAW Women's Championship at
SummerSlam
. Not bad!
Regarding the headline of this episode, the revelation that Jason Jordan is Kurt Angle's son seems to have received lots of criticism: many claim it to be anticlimactic, while others couldn't stand seeing another tag team separate. I personally was never a fangirl of American Alpha, but I find this storyline to be brilliant! Not only does it put the spotlight on a Superstar with great potential as a singles competitor, but it also is reminiscent of the lengths WWE is willing to go to creatively with their storylines. We live in the Reality Era, where all the Superstars' real lives are recorded through reality television and displays of real-life unity and endeavors through social media. It has become so much more challenging to the modern audience to truly believe in the characters the Superstars try to portray when everybody is too busy reading about who they're actually dating in the company.
We all know Kurt Angle's wife by name, as well as his children, with the release of the latest
WWE 24
documentary and his recent induction into the WWE Hall Of Fame. To take a storyline as bold as an illegitimate child angle and to put it out there to the public is basically signing a contract saying this is how the audience is going to perceive your character until the end of time. It's a huge step they're taking to make us believe in their acting. This is sports entertainment at its finest!
If Jason Jordan had stayed with Chad Gable in American Alpha until now, you wouldn't see them much. You can't have every single Superstar or every single team be under the spotlight, and it just wasn't American Alpha's time when you have teams like The New Day and The Usos doing their thing right now. With this secret revealed, expect Jordan to have a real voice in the upcoming weeks, and have Gable probably react to it more. The latter would be off doing his own thing eventually, too.
From here, the storyline could go in many directions. Jordan could play a babyface with a target on his back for being the General Manager's son, or, he could be really cocky about it and play a heel, spoiled and always hiding behind his dad. Either way, judging from how things went down on
RAW
as well as the exclusive interview with Renée Young after the show, it seems that Angle's character is breaking the stigma of illegitimate children so far by acting beyond proud of Jordan. He gathered the courage to tell the truth, and then embraced it. It then sends more of a positive message rather than a negative one for an issue that is usually frowned upon by society. It's quite a beautiful thing!
I honestly loved this segment a lot and I couldn't stop giggling in class while watching it. When Kurt started crying tears of joy, I was crying tears of
laughter
. I swear, this shows you how dedicated Kurt Angle has always been to this business and he doesn't give a shit what storyline is given to him, no matter how ridiculous it is. He
gets
it, and he plays it so well!
Admittedly, there was a part of me that wished it was an affair with Dixie Carter somehow. It would've been the epitome of "if you can't beat 'em, join 'em"! I don't know what that would've really done in the long run, I just wanted a mark-out moment and witness history being made. And drama. I like drama.
Speaking of drama, that opening segment with Dean Ambrose and Seth Rollins was so good; I felt every word so deeply and was swept away. Dean Ambrose coming out first for once and not The Miz was so refreshing to see and while I'm a little over the feud, it still was nice to see something new.
Rollins' apology had everyone popping and squealing, so moved with the emotions he brought out. Both Superstars took a step down and showed everyone how human they can really be through the way they react to certain situations and by not forgetting the issues of the past. Because that's what we normal people do: we wouldn't trust Seth either because he was once a snake, and now Seth has no choice but to prove himself and beg for forgiveness. These sort of storylines with rational emotions and smooth continuity enable the audience to relate more to the Superstars. Remember that Bella Twins feud in 2014? It was an awesome moment, until one day they dropped the ball and decided for the girls to team up again with no real explanation apart from "well, she's my sister, and I'll always have her back."
NO!
Things should be much more fluid than that for people to hang on to the roller coaster of emotions you're
supposed
to give them. So I applaud this Ambrose and Rollins storyline for doing it right!
In addition, the Miz and his Miztourage took advantage of the numbers game, which tells you that a Shield reunion isn't far from happening now. It's a great tease.
The main event of Roman Reigns vs. Samoa Joe for the #1 Contendership to the Universal Championship had everybody on their feet. There were so many false finishes, I had to ask my seat-mate to confirm which arm starts to hurt when you're about to have a heart attack. Coming into this, I knew it wasn't possible for either to win clean and I knew Braun Strowman would find a way to insert himself into the picture. As expected, we're clearly teased a Fatal 4-Way Match for
SummerSlam
that Kurt Angle said he'd address next week. So that's another thing to look out for!
RAW
this week automatically gets plus points for effectively hyping the world up with the anticipated reveal of Kurt Angle's secret, which I'm satisfied with. It was like waiting for the season finale of a drama series. With that said, we are off to a new intriguing season that leads us to
SummerSlam
, making us all wonder what happens next from here. I grade it a
B
!
Quick Hitters:
Finn Bálor gets a guitar smashed right in the head without covering and starts to bleed! It's like they intentionally want their most fragile Superstar to die. Damn, do you guys know how hard a guitar actually is? I'm sure Finn wouldn't be able to listen to any music after that for various reasons.
I forgot Bray Wyatt was also part of that segment. I guess I also forgot to care.
Okay, I think I get it now. The Hardys are being used as a ticket to a match with the Tag Team Champions. If The Revival can win against the Hardys, I'm sure they'll be challenging Sheamus and Cesaro soon enough. But at this point, the heels are destroying the only face tag team on RAW and something needs to be done to maintain a right balance!
Titus and Tozawa clashing this early on doesn't seem right to me. Nobody actually cares about the struggle to success—it is the fall after the success that enables people to react a lot more. Instead, we get complex characters who are neither right or wrong, and people aren't too sure who to really side with anymore. The idea of this is alright, but at least prove to us what Titus Worldwide can truly do first so that the shortcomings could mean more.
Big Show and Big Cass have a brawl—because we all know there can only be one with the right to use the first name "Big"!—and it was so forgettable and boring. On that note, there's only so much Enzo can really say on the mic if you make him speak every week with no real development to the storyline.
I believe Talking Smack was literally cancelled just to stop them from making fun of the whole illegitimate child angle.
Photos by WWE