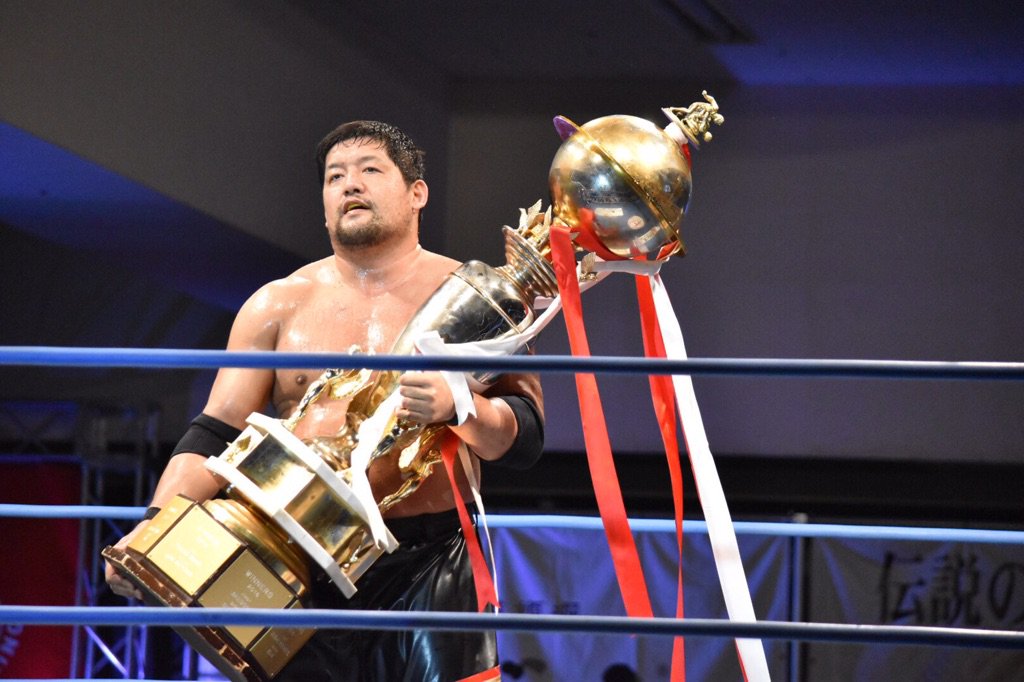 This year's edition of the NJPW G1 Climax tournament is ongoing. The G1 is widely considered to be the best annual tournament in wrestling, unless PWG's Battle of Los Angeles
is more your thing. But in terms of the round robin tournaments, which is extremely prevalent in Japan, the G1 is usually considered the gold standard.
However, while the G1 is the most popular Japanese wrestling tournament, it isn't the only one, nor is it the best by a long shot. A couple of other Japanese companies do these round robin style tournaments pretty well, and the one that'll be highlighted today is AJPW's Champion Carnival.
The Champion Carnival has been held since 1973, and has had huge names win it such as Giant Baba, Kenta Kobashi, Stan Hansen, and Vader. Even some current NJPW wrestlers have won it as well, such as Yuji Nagata, Minoru Suzuki, and Satoshi Kojima. Its format is pretty much the same as the G1: two blocks, with the wrestlers going up against each other round robin to earn points. The winners of each block then face each other to crown a winner of the tournament. Like the G1, the winner gets a championship match against the top champion of the company. In this case, and when the match occurred, that was Kento Miyahara, the Triple Crown Champion.
While the participants for this year's tournament wasn't quite as stacked as the G1 (understandable, given that AJPW is currently a much smaller company), there were a lot of talented wrestlers joining the fray. Participants included the ace Kento Miyahara, Daisuke Sekimoto (last year's winner), and former Triple Crown Champions such as Suwama and Takao Omori.
Two other really notable wrestlers that I left out of that list, and for good reason, are the finalists Shuji Ishikawa and Joe Doering.
Shuji Ishikawa is currently a freelancer, but spent most of his time between DDT and BJW before joining this year's tournament. He's won the top singles championships for both companies, and is also a really well accomplished tag team wrestler as well. While he's not a name that most people would know, those who do know him actually considered him to be a contender for Wrestler of the Year last year. The guy is 41 years old and is massive, but the speed in which he moves is that of a man pretty much half his age, and the offense that he puts up is brutal and realistic.
Joe Doering's story is inspiring. A former Triple Crown Champion, he had to sit the entirety of 2016 out due to brain cancer. The cancer had actually progressed to a pretty dire stage, and people were pretty much counting down how much longer he had to live. At that point, people would have been happy for him just to live. Well, not only did he live, he started wrestling again, and it didn't look like he lost a step at all. Now this man, who people thought wasn't long for this world, was back, and now he was in the final of the Champion Carnival.
The story of this match reflected the story of Joe Doering's entire tournament. He had been away from wrestling for a year and half. He had never encountered Ishikawa before. Ishikawa was coming in as an absolutely dominating monster. Doering sold so well for Ishikawa, and the amount of heart he had showed. He was able to hang around with Ishikawa for despite the pain he was in, but in the end, Ishikawa was just too much, and so Shuji Ishikawa is this year's Champion Carnival winner.
A good way to describe this match is this: this could be this year's G1 Final, and it wouldn't be out of place at all. It was that good.
Ishikawa would then go on to win the Triple Crown Championship from Kento Miyahara, who had held the championship for 464 days before being defeated. It's another match I'd highly recommend.
What did you think of the match? Do you enjoy these kinds of tournaments? Leave a comment!
Brandon Sy is a PhD student in Biochemistry and Molecular Genetics currently based in Sydney. Since he wasn't allowed to watch wrestling as a kid, he's been overcompensating ever since. Despite being a huge fan of Japanese wrestling, he still holds a soft spot in his heart for WWE's Kane. He's good for recommending matches from pretty much anywhere, whether it be Japan, Europe, the US or Mexico. He'd be ecstatic if you watched Dragon Gate though.