I don't know about you, but the Great Balls Of Fire pay-per-view name grew on me. They really pushed through with the retro theme which then gives the name much more sense and makes it more acceptable. I guess. Their vignettes are my favorite, with the vintage cars and the theme song! Though I'm not sure who's in charge of creating their banners and match card visuals, but I'm sure that person's having a blast getting paid to Photoshop a pair of balls right next to wrestlers' faces.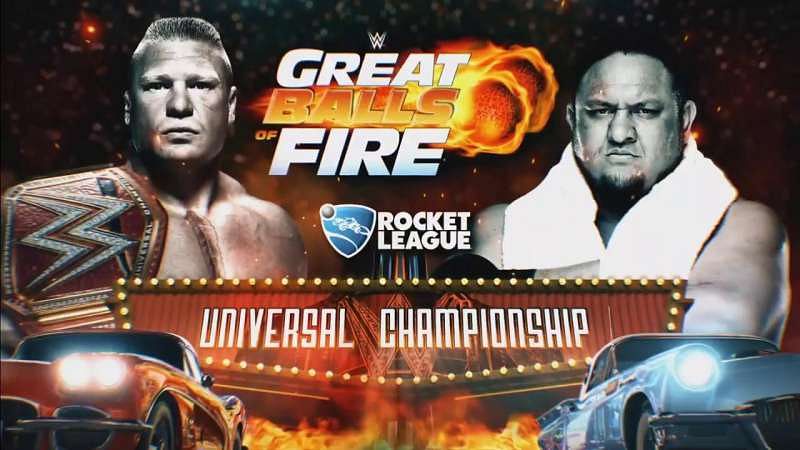 Moving on, coming from a dramatic episode of RAW last week, I was excited to see the continuation of these stories. Most were addressed, but some in a way that felt unsatisfyingly lacking. The show was live at Los Angeles, California so, as expected, there were more celebrity guests than usual. Boo. The episode's inconsistency made it a bad idea for me to watch it at two in the morning with the risk of dozing off every minute. It certainly did, however, have its exciting and controversial takeaways, like RAW usually does anyway.
I need to start with the women. Nobody expected them to main event this episode. Their segments in the last couple of weeks were yawnful, I couldn't even get myself to write about them; they threw all the girls in one story just to have everybody doing something. We had a gauntlet match for the #1 Contendership, which wasn't anything too surprising–they're going to need something for Great Balls Of Fire, right? Now, I'm not sure whether it was the three cups of coffee I drank last night, or the quality suspense of the match, but I was definitely glued to my screen the whole half-hour. Half-hour. That doesn't happen often. The ladies, especially Sasha Banks and Nia Jax, put on a very entertaining match.
I heard some people complain that the match was too long, and that Nia became too "gassed." No, people, that's what happens when you're a giant–you're supposed to be hard to beat. Nia getting (selling) tired was supposed to be the indication that Sasha may actually have a shot at winning, if she just kept fighting. And that's exactly what she did to win it. It was well done, and they've restored my faith in the women's division! I hope Sasha wins the match against Alexa Bliss so we could have Sasha vs Bayley at SummerSlam.
Speaking of Sasha Banks, dare I say that Brock Lesnar's face looked more pink than Sasha's hair that night. Because he gets so red easily, that Coquina Clutch from Samoa Joe looked deadly and very believable. What I love about this segment was how vulnerable it made Lesnar look and more susceptible to a loss at Great Balls Of Fire. This evens the odds out even more for the two competitors and adds to the suspense and hype of the match, because now, you're not really sure who'd win anymore. These kinds of buildups are my favorite because it's this type of mystery that gets people hooked in a sport so predictable.
With that said, Enzo and Cass' exchange in the ring admittedly fooled me and it was awesome. I thought that maybe they were heading towards an unconventional route, where they'd continue to be tag partners but their relationship would be focused on mood swings, compromise, fakeness… And have them win the RAW Tag Team Championship somehow whilst being dysfunctional. But nope. Their great acting broke my heart for the second week in a row. Dammit.

Everything in their delivery felt so real. The way Enzo was looking at Cass, and all that stuff about eating together and being brothers could make anybody's heart sink and yell at their screen with a mouth full of ice cream to numb the heartache. Or no, that last part was probably just me. Heck yeah, Enzo, that's what I said, too! Cass, that's right, you belong together, the hell were you thinking!? *nom*
Clearly I'm really not a fan of this breakup like I've explained in last week's report, but I must admit, they're building a good feud that I hope lasts until SummerSlam. It's the kind of drama RAW needs.
Switching gears, allow me to talk about the worst segment of 2017. Yeah, scratch what I said about the Bayley: This Is Your Life segment a few weeks ago because we have a new winner right here. Most of the time, the celebrity guests of the WWE get booed out of the building just because it's so obvious they don't know shit about how wrestling works and it's really embarrassing and boring.
The Ball family's segment is the epitome of everything I just said. I personally don't know anything about basketball, but from what I've heard, they're all pretty cocky and unlikeable, hence the boos from the crowd right from the start. But it all went downhill, fast, when LaVar took his shirt off and his son LaMelo kept yelling...y'all know what he yelled. Dean Ambrose's face was hilarious coming out hearing that, as the whole audience facepalm-ed and officials most likely flipped desks, punched walls, started a fire and attended to Vince McMahon's heart attack backstage.
This episode had its moments, but the rest was really your generic, RAW formula and there was nothing more to it. The show picked up the pace last week and slowed down once again this week, but we still have two weeks until the pay-per-view which is enough time to develop all storylines that have already been established anyway. I give it a C-!
Quick Hitters:
Finally some great attention to the women's division! Will we finally see Sasha Banks vs Bayley at SummerSlam, or a Nia Jax title shot?
On this episode, you see Brock Lesnar's head almost explode before your very eyes.
Enzo and Cass' feud looks like it is far from over; I think we should see them go face-to-face at Great Balls Of Fire or even at SummerSlam. But I'll be honest with you, I have no idea how that's going to play out because of the obvious size (and skill) difference. Maybe we'll see Enzo with a new partner?
WWE will now think twice of giving anybody a live microphone on their PG program after that Miz TV segment with the Ball family.
Braun Strowman beats the crap out of Roman Reigns and puts him in an ambulance, which always makes good TV.
Goldust finally gets his hands on R-Truth, without the match officially starting. This was a good tease for their match in the next pay-per-view pre-show. Hah, I went there.
Even Seth Rollins probably has no idea what Bray Wyatt is saying, but will fight him anyway!
We officially have Tozawa vs Neville for the Cruiserweight Championship at Great Balls Of Fire, with the Titus Brand now renamed "Titus Worldwide." I'm not sure why the change was necessary and now I have a Pitbull song stuck in my head.
Well, as you can see, no Stone Cold Steve Austin... Why would they mislead everyone by selling those "Los Angeles 3:16" shirts? Just because he lives there? Who does he think he is?
Photos from WWE