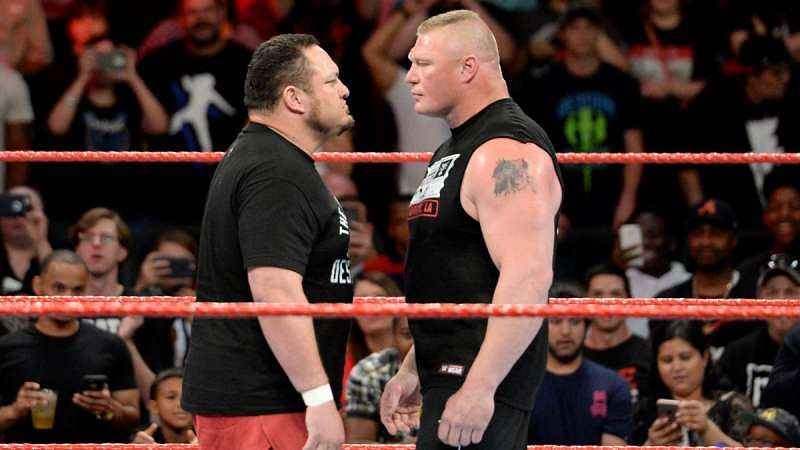 Brock Lesnar was announced to show up this week, which would have been the first time we see The Beast Incarnate since the
RAW
after
Wrestlemania 33.
T
his was certainly the main selling point of this episode that needed to be made when you're in a fight for ratings against the NBA Finals.
The rest was
too
cramped with segments and matches, with numerous vignettes of different Superstars in between
—
and still a lot of the brand's stars weren't booked! Three hours for a weekly wrestling program is long and can be very dragging, especially when a lot of its content are random fillers. But thankfully, this week, though a lot of the parts weren't anything particularly special, nothing was bad or boring enough to skip, either, which is is a little rare when you're watching
RAW
.
The show starts off right with Brock Lesnar and Paul Heyman in the ring. Samoa Joe arrived as expected and went face-to-face with The Beast, leading to a brawl. This was certainly an explosive way to start
RAW
, and immediately hyped everyone up for their match at
Great Balls Of Fire
. This is exactly what needed to be done for more views, because they all knew internally that the majority wouldn't bother to tune in later on, deep into the NBA Finals game.
Initially, many of us dreamed of seeing this feud and so it felt a little surreal to watch it actually happening. Now, it's also important to keep in mind that in order to have a big brawl like this, the two Superstars involved must have some sort of deep founded hatred for each other—one that would cause them to blow up and lose control. I must say, the reason why I wasn't rooting for Joe to win the #1 Contendership is because I couldn't think of a good story to really back their feud up with both of them being heel characters. However, they got right into it when Joe recklessly put Heyman in the Coquina Clutch last week, which then flicked the Beast's "on" switch. This was then elaborated beautifully by a concise promo from Heyman right before the brawl happened, which clearly explained why Lesnar would be angry at Joe. Heyman then took a dig at Joe not being part of the famous extended family of wrestling Samoans, which then gave a good reason for the latter to come out and be angry back at Lesnar. In essence, they gave this brawl some meaning (apart from just being "two big guys fighting") in a short amount of time.
Switching gears, The Hardy Boyz vs. Sheamus and Cesaro in a Two-Out-Of-Three Falls match for the
RAW
Tag Team Championship in the main event shows everybody that you shouldn't sleep on this division. These two teams gave us a rather suspenseful match, no matter how many times they've faced each other. It was very quick, though, especially for a match of that stipulation, but I think it's because they simply ran out of time in an episode that felt very packed with segments. But give these four guys any stipulation and expect something different every time, which always makes them exciting to watch. (Can I just say that their Steel Cage match at Extreme Rules had me screaming on the edge of my seat!?) I may have called the Hardys boring two weeks ago in a previous article, but they've definitely convinced me otherwise with their matches against Sheamus and Cesaro lately. I just hope they don't abuse it, though; it'll start to become a little stale if they just face each other every single week. Some might even think it has already reached that point, but to me this feud is still holding on to the question of whether or not the Hardys will win the Tag Team titles back. On another note, the Hardy Boyz were interviewed backstage sometime during the show and I couldn't help but cringe every time Jeff had to say something. Every word that came out of his mouth felt beyond scripted and I guess there goes the reason why his brother Matt usually does all the talking.
I need to talk about The Miz, Maryse and the bear from last week. This segment was entertaining once again with Rhyno and Heath Slater bringing more comedy into it. Like I've mentioned last week, this storyline feels natural and all characters behave rationally in the situation. Not only is Dean Ambrose after the Intercontinental Championship, but he also loves messing with The Miz and Maryse's relationship and getting under the champ's skin by playing all these tricks. I know a lot of people went straight to their social media pages to complain about this segment and ask why the need for silly bear costumes. Well, smarks, not every wrestler is to be taken so seriously all the time. A big part of entertaining a crowd is to make them laugh, too, and comedy segments can be great contrasts to the big, serious ones like Lesnar/Joe. Here is a screenshot of Rhyno's face during their tag match and don't tell me you didn't giggle a bit.
Oo na, mababaw kaligayahan ko.
On one of the on-going mysteries on
RAW
, it seems that Enzo found a new partner in The Big Show. I'd understand Cass' jealousy
and
suspicions towards the World's Largest Athlete: why would Big Show even go out of his way to talk shit to Enzo about Cass? However, I feel like it's just an obvious set-up for a plot twist, just like any other murder-mystery nowadays. So much confusion still in this story, and
more information and clues have yet to be revealed. The only thing that is worrying me now is the thought of breaking Enzo and Cass up. I hope it doesn't lead to that because I feel like the two work well together and compliment each other
—and, I mean, it's not like Enzo can pull off great matches on his own anyway.
Bray Wyatt took another step in his said conquest and seems to have targeted Seth Rollins. It's not often you see Wyatt cutting a promo inside the actual ring, live, which feels a tiny bit refreshing than the taped promos he makes almost every single week. It's always impressive when he does this because he talks
so much
and doesn't even hesitate. Whether or not you're actually listening to what he's saying, you have to give him credit. It got truly interesting when Rollins came in, though, and the two were having an actual exchange. The mean words to each other were great, but even with Seth in the tightest pair of
leggings
jeans I've ever seen on a guy, Bray still doesn't look very convincing to me especially since Roman Reigns first shat on all his plans. Let's not forget the unnecessary clean loss Rollins took against Reigns a couple of weeks ago that did absolutely nothing for any story. Now it just looks like two guys who couldn't defeat Reigns just decided to fight each other instead because they've fully accepted that they are beneath Reigns. And even with all those wins against some of brand's top Superstars, nobody bothered to make a real story out of them until today.
It just happened.
Meh.
Overall, I enjoyed almost every bit of this episode.
Some moments were average, but like I said, nothing was actually terrible this week. In fact, the majority was interesting enough to actually write about. Although it did feel like I was eating a dense cupcake, it was still a cupcake regardless.
So I grade it a
B+
!
Jojo is not doing the ring announcing tonight… I wonder why.

First time we see Samoa Joe and Brock Lesnar face-to-face and it resulted in a huge brawl between the two, involving security personnel who are secretly pro-wrestlers and all midcarders backstage.

The quick Tag Team Championship main event is still worth a watch! This ended in a double count-out which means this feud still isn't over

—

which I don't really mind, but I just hope they don't face each other again next week and actually wait this out to end it at

Great Balls Of Fire

.

Miz and Ambrose are still finding ways to mess with each other. Their segments are always well-executed so yes, guys, I don't care if Ambrose had to be in a cute bear costume

—

I

thought it was funny.

RAW

tries to mimic

SmackDown Live

with Alexa Bliss ending up aggravating the women's locker room once again

—everyone is out to get her and her title including a returning Emma, which was so awesome until she

took the pin and lost.

What a shitty way to bring anyone back by immediately casting them as the weak loser.

Alicia Fox was FaceTime-ing Noam Dar the

whole time

during his match against Cedric Alexander. This did absolutely nothing for either guy and I'm glad Sasha Banks was removed from this useless mix.

Bayley was...just being Bayley.

Neville called out Akira Tozawa, who is currently being recruited for the Titus Brand. In this week's

205 Live

, Titus was shown continuing his efforts and has even claimed himself responsible for getting Tozawa booked in the main event which he won. If the "power of the Titus Brand" rubs off of Tozawa more in the next few weeks, we might actually have Tozawa as our next Cruiserweight Champion.

Is Big Show the culprit or nah!? I say there's going to be some sort of twist in the next couple of weeks. This could be settled right before or at

Great Balls Of Fire

.

What happened to the Kurt Angle mystery with Corey Graves? The story's still there and on-going but we have no new clues at all.

"Free agent" John Cena returns to

SmackDown Live

next week in line with a Roman Reigns

SummerSlam

announcement on next week's

RAW

. Hmm. Could we see Cena move back to

RAW

to face Reigns?