We are still in the midst of the buildup for
Great Balls Of Fire
, which is set for three weeks from now. That said, this episode of
RAW
was filled with compelling developments and twists to storylines leading us to the upcoming pay-per-view event.
What I love most about the WWE is their ability to evoke different emotions in their audience. Grown men have shed tears during memorable moments such as The Undertaker's farewell, Daniel Bryan's championship win at the main event of
WrestleMania
XXX, and the Festival Of Friendship. On that note of shedding tears, Enzo Amore cried during his segment with Big Cass this week. He cried. You don't see that often from a Superstar's acting. Those close-ups on Enzo's amazing delivery of grief and betrayal just punched the audience all the more in the gut.
I knew there was going to be some kind of twist! Like I mentioned in last week's report, they were making it seem like the Big Show or The Revival were guilty; but like in any murder mystery you'd find nowadays, whoever it is that they shove as an obvious culprit most likely isn't the actual culprit.
Now, this is my concern. Hold my drink.

A good formula was used to shock the crowd, but I think they thought too hard about inserting this formula in the show somehow without considering the expense on the characters used. Why Enzo and Cass? We've had great tag teams breaking up here and there in the past year and the number of face tag-teams are quickly diminishing. So why fix something that isn't broken?
Enzo and Cass, to me, complement each other very well and belong together. I find it very silly to separate teams who have similar characteristics, like what they did to the Wyatt Family. Luke Harper and Erick Rowan still come out looking dirty and creepy, and now that they're on their own without Bray, there will always be this tendency to think that they belong together as just one group every time you look at them. It's just weird. Enzo and Cass will suffer the same fate.
In addition, the former can compete but is known not to be strong enough to win anything except for a trash-talking exchange. He's practically a manager. I don't believe that the excuse of "dead weight" can be used in this case, because Cass was always the powerhouse who can win a championship with Enzo standing by his side. What's wrong with that? If they're going to turn Cass heel, why was it so necessary to leave Enzo behind? I can imagine the two together as heels with Cass dominating and Enzo killing it on the mic in an arena resonating with boos.
Another thing worth mentioning about that segment was how incredibly dumb Kurt Angle looked as a General Manager who supposedly knows everything about his own show. I hate how they put Corey Graves in the position to play the detective in this story—why him out of all people? Why does he care so much? Anyway, Kurt's reactions of shock to what Corey revealed like he had no idea what was going on confused me a little bit: so this means that the "information that could destroy" Kurt and the secrets they've been hiding are completely different stories… Alright, okay.
So my next question is, when the heck are we going to know more about that secret? That story hasn't really advanced in two weeks and I hope they didn't just let that one go. I'd understand to wait until we're closer to a big pay-per-view like
SummerSlam
to reveal something controversial, but I don't think it's ever a good idea to start an angle and only develop it every other week. Some people impatiently wait for more, or even tend to forget about it. But going back, I must say, Corey definitely looked like the hero here for a heel commentator. He's also been acting like a kind
pet
assistant to Kurt Angle.
All in all, this story didn't really benefit anybody. Everything just feels like it hasn't been properly thought through, sacrificing good long-term things to get one short-term buzz-worthy segment for everyone to react to. But after all this…
now what?
To be fair, it's always nice when the WWE toys with your emotions like this because it means they're doing a good job in keeping people invested and entertaining everybody. I was personally so freaking heartbroken when Cass was enumerating his reasons for leaving Enzo, which were very, very valid and true-to-life—anyone who has to deal or constantly clean up the mess that their friend has made would eventually feel tired of it. This realism in their storyline is exactly what enabled the audience to really feel the pain. Cass also showed a lot of personality and emotion in his promo delivery.
Now, I think we're all wondering what's next for the two. They could milk the story a bit more and have Enzo try to either win Cass back, or fight in a match against him. Once that's completely out of the way, Cass could be making his way for a title match. Either way, it's way too early to split a team up that has only been on the main roster for a little over a year. I feel like this caused more damage for the two in the long run.
On the note of realism in storylines, it seems as though the Creative team is heading towards the same direction with the Miz, Maryse and Dean Ambrose storyline. Execution by these characters, like I mention every week now, is very natural and reasonable. Maryse had every right to react the way she did when Miz aggressively pulled her in front of him. I'd be fuming, too, if you made me spill my champagne. On my pretty expensive dress. In front of 10,000 people. Right after I was promised it wouldn't happen again. It was a nice way to build Miz as a cowardly heel and Ambrose as a mischief-maker.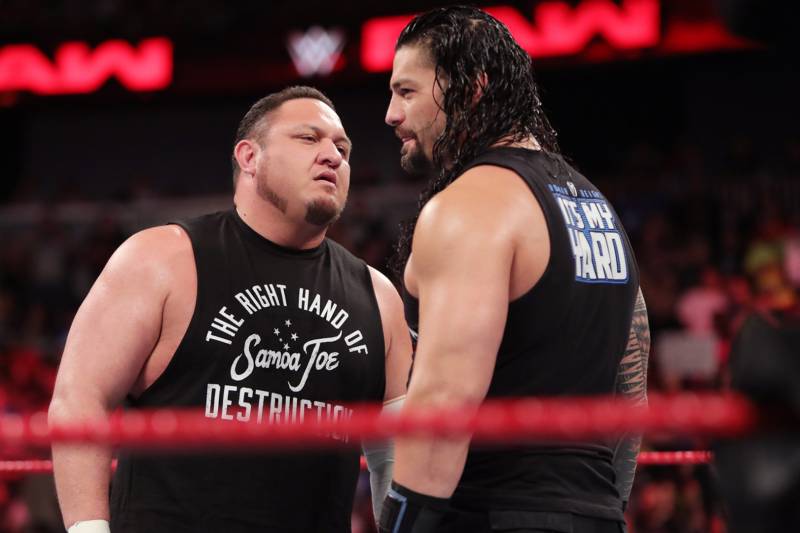 Moving on, Roman Reigns opened the show and I couldn't hate any Superstar more than I hate him. Which is good, because that's what a heel is supposed to do anyway. Unlike your typical heel like Seth Rollins or Kevin Owens—who are such good performers that you can't help but cheer for them—Roman Reigns is a subtle kind of heel. He's another character WWE is experimenting with to come up with new ways to get a heel to be genuinely booed in an era where it's cool to cheer for the bad guys.
Reigns is being booked as a Superman while being very cocky and disrespectful, and it's definitely an enigma that creates a division in the crowd. I'd emphasize the word "experiment" as many may not really appreciate this new and weird way of bringing up a heel. All I know is, if he's truly heel and I hate him to bits, I suppose they're doing something right. Reigns goes out and just inserts himself into a Universal Championship match at Summerslam (I guess we were wrong with the John Cena assumptions) against whoever leaves Great Balls Of Fire with the title. And as much as this would deeply aggravate anyone, this segment inserting Samoa Joe was actually a really good idea that, unlike the Enzo and Cass story, was properly thought through.
This led Reigns and Joe to a match later that night in which Joe won with a distraction from Braun Strowman coming from an ambulance. Upon the third count, Michael Cole immediately brought up Brock Lesnar and told him to beware. This whole segment and match hit two birds with stone, developing two stories at once. It made Joe look strong enough to face Lesnar which evens the odds for their match at
Great Balls Of Fire
and further adds suspense, but also builds up to the feud between Reigns and a returning Strowman. This part of the episode was definitely exciting and all characters were put to good use—it wasn't just
mema
like many of the other matches we see on
RAW
.
These segments were the biggest takeaways of the show, and none of the other segments or matches were interesting enough to really talk about it. At least it had its controversial moments that shook the WWE Universe and a few segments done really right, so I grade this episode a
B-
!
RAW is the show that breaks the people's hearts. Enzo and Cass have officially split and many of us aren't really digging the decision.
Roman Reigns vs Samoa Joe started a potential feud for the future while adding depth to both their current storylines. Oh, and, BRAAAAAUUUUUNNN!
The WWE 2K18 trailer is out with Seth Rollins on the cover. He went out and cut the cheesiest (admittedly, inspiring) promo in the sake of marketing the videogame. I kinda miss Heel Seth.
The match between Finn Bálor and a very aggressive Bo Dallas can be described with this sentence: "Hi, I'm Finn Bálor and I look likable and silly on social media but I can also be very, very mean." It was a great way to remind everybody of Bálor's serious side.
I feel like we may see Tozawa on the Titus brand soon enough, especially with the latter insisting that he can make Tozawa the next Cruiserweight champion. I mean, who wouldn't want to be champion, right? Titus even threats Neville after, so it would be a little strange to build this entire thing up only for Tozawa to decline the offer.
Curtis Axel and Bo Dallas are Miz's new sidekicks. Reports say this is to write Maryse off because the couple is too similar to Maria and Mike on SmackDown Live. It feels like they just got whoever isn't doing anything on the roster and just randomly placed them behind a Superstar para lang may magawa sila.
The women's division has once again been forgotten. It was a time-filler before the main event where they decided to throw all the women in one segment and catfight. Something needs to be done!
Photos by WWE