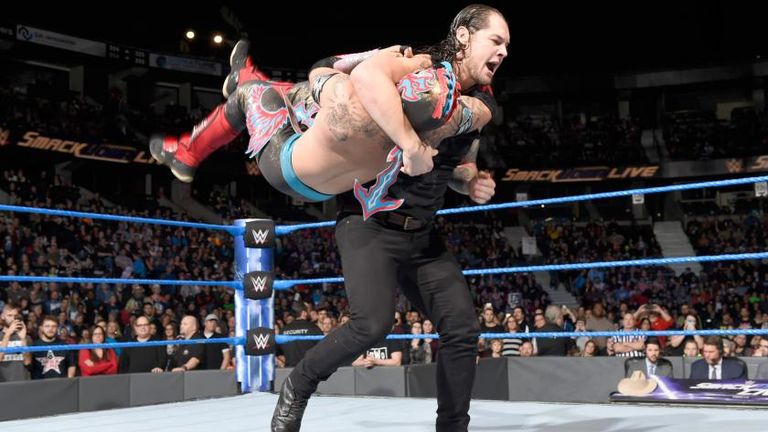 Good morning, and this is the Grapevine! This section of Smark Henry is where we round up all the founded and unfounded rumors abound the pro wrestling scene that you may have missed over the evening.
We have the odds on who's favored to win the Money in the Bank ladder match:
All betting odds are pointing to Baron Corbin winning the Money in the Bank ladder match at, uh, Money in the Bank on June 18. Right now he's the runaway favorite, with Kevin Owens coming in second. Sami Zayn and AJ Styles are third in the odds, with Shinsuke Nakamura and Dolph Ziggler following in the last two spots, respectively. This is in line with persistent rumors that Corbin was going to win it this year. There are no odds yet for the women's Money in the Bank match. (Source: Wrestling Inc, Bet Wrestling)
We say: That sounds about right, and Baron Corbin is a good enough guy to get this opportunity. We wish it was Sami Zayn, though, and there's still a couple of weeks for them to change their minds.
Samoa Joe vs. Brock Lesnar at Great Balls of Fire will be a one-time affair, as Brock vs. Braun Strowman is still the plan for SummerSlam. Brock vs. Roman Reigns is still also the plan for WrestleMania 34, and he is also scheduled to defend the title against Seth Rollins and Finn Balor before then. (Source: WON)
We say: So basically, we just spoiled the entire calendar year of Brock Lesnar's defenses for you. This is starting to get old.
Lana's role on SmackDown Live will be the one Eva Marie left, which is apparently the non-wrestler wrestler role. While she is being positioned as a heel against Naomi at Money in the Bank, her character pretty much guarantees that she'll be a babyface moving forward. According to WWE.com, she won't be wrestling at all on the next couple of SmackDown Live episodes until her match with Naomi at the PPV. (Source: Wrestling Inc, WON)
We say:
This should be interesting. Fans do love Lana enough to make her a bigger babyface than they did Eva Marie, and from the little ring time she's shown (which was last year, back at
WrestleMania
) she seems to be more competent than All Red Everything. Let's hope Naomi can lead her.
Let us know what you think of today's news in the comments!
Photo from WWE