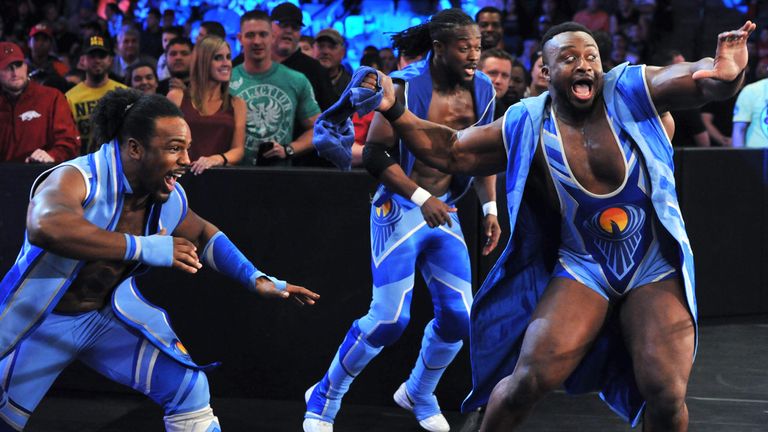 Good morning, and this is the Grapevine! This section of Smark Henry is where we round up all the founded and unfounded rumors abound the pro wrestling scene that you may have missed over the weekend.
We have some very good news for the
SmackDown Live
tag team division:
The New Day is set to return to TV this week as Kofi Kingston is now cleared to compete. Kofi had been sidelined for the past couple of months with an ankle injury he needed to heal from. The plan now is for the New Day to eventually feud with the Usos, who had retained the SmackDown Tag Team Championships against Breezango at Backlash. (Source: Wrestling Inc, Wrestling Observer Radio)
We say: IT'S A NEW DAY, YES IT IS! The blue show's tag scene needs all the help it can get, for sure.
CM Punk has been contacted to try and appear at a pro wrestling tournament in Liverpool, England, but he has not confirmed or responded at all. Daniel Hinkles of 5 Star Wrestling offered Punk $1 million to participate (and win) in a huge 128-man tournament. Hinkles's Twitter account initially announced his participation, but the tweet turned out to be a hack. The offer is apparently legit and still stands. (Source: Wrestling Inc)
We say: Wow, that's huge. We have a feeling that Punk doesn't really need to head back to wrestling to get a million-dollar payday, however, unless he's more desperate than we know.
WWE apparently did not make an attendance announcement before the start of Backlash, which may indicate poor attendance, but the show did rather well for itself. The show sold around 10,000 tickets, and was even considered to be almost a sellout, but they stopped moving for a while as the matches were being announced on SmackDown. (Source: F4WOnline)
We say: Seems like there's not much to worry about. SmackDown did take its time in rounding out the PPV card, and they were testing out completely uncharted waters in Mahal vs. Orton and Breezango vs. the Usos. Let's hope most fans trust SmackDown now after the show.
Let us know what you think of today's news in the comments!
Photo from WWE