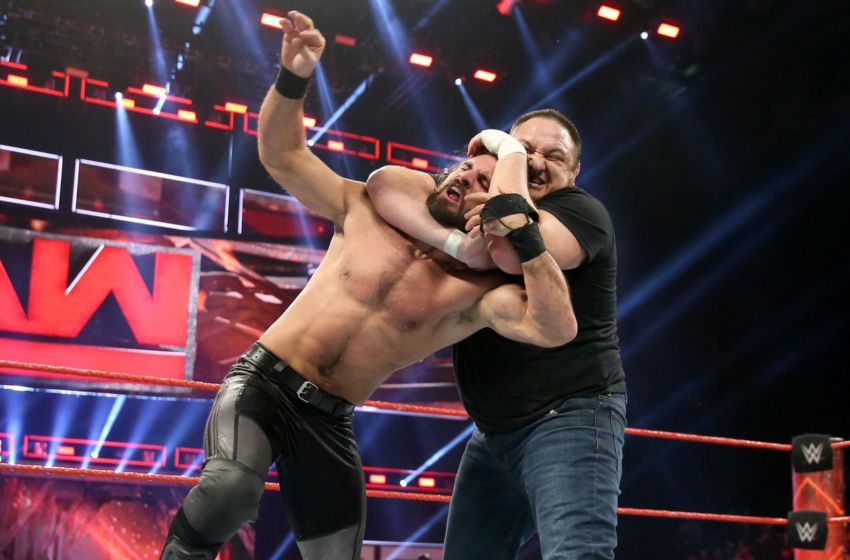 Good morning, and this is your daily Grapevine! This section of Smark Henry is where we round up all the founded and unfounded rumors abound the pro wrestling scene that you may have missed over the evening.
There's a small update on Seth Rollins's status for
WrestleMania:
WWE is still proceeding as normal with Seth Rollins vs. Triple H for WrestleMania. Even though they haven't released a new update on his knee injury (and they've actually put some serious doubt on his status for the show) they're assuming that he'll be able to recover in time, as of now. (Source: F4WOnline)
We say: Guys, this is a bad idea. There's still time to swerve to a new lane. Adapt accordingly, because we doubt you'd be able to build up this match properly without Seth being able to appear on RAW.
Nikki Bella's match at WrestleMania 33, whatever it's going to be, will probably be her last match as a full-time wrestler for WWE. Her neck issues have been getting worse, even after changing her finisher, as she reportedly feels a lot of numbness to one whole side of her body. She plans to take time off and be a part-time wrestler for the WWE after the event. Right now, she's rumored to figure in a mixed tag team match with boyfriend John Cena against The Miz and Maryse at WrestleMania. (Source: Pro Wrestling Sheet)
We say: If this is at all true, then it's quite a shame. Nikki has been one of the most successful products of (stepdad) Johnny Ace's mid-2000s models-to-wrestlers program, and it's sad to see her cap her career off this way. That said, even though she's over with the female demographic, we're not sure having her wrestle part-time is a good idea for her body and for the product. Maybe she's better off resting; she's earned it.
Tajiri was backstage at RAW yesterday, and may be cleared to compete as soon as this week's episode of 205 Live. Tajiri sustained a small injury last month to his knee, but if he's able to compete this month then it might not have been that bad. (Source: PWInsider)
We say: Thank God, because we feel like the Cruiserweight division needs a veteran presence that isn't the Brian Kendrick right now.

Let us know what you think of today's news in the comments!

Photo from WWE