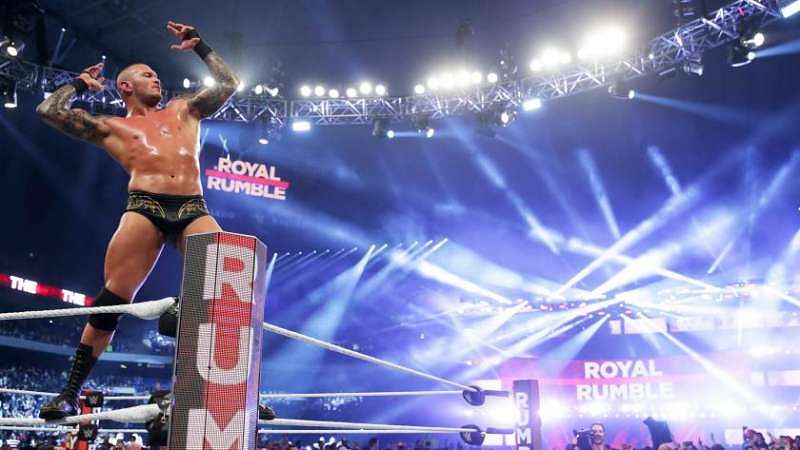 The Royal Rumble match has become, like many other things the WWE has touched in Vince McMahon's late career, one of those strangely poisoned things under its umbrella. Every January, we wait with bated breath at the promise of a fun Rumble, the most fun match it can ever put out in 12 months of wrestling—but really, when was the last time you were happy with the result?
Maybe you were truly happy with Triple H winning the WWE Championship last year, but otherwise, there hasn't been a Rumble we could really write home about. It's because WrestleMania has no longer really been an event for the hardcore fans, no matter how you look at it, so their main events have been either lackluster or in need of an important last-minute change. And when you're set on main events like, say, Roman Reigns vs. Triple H or Roman Reigns vs. Brock Lesnar, you need to have the wrong people win the Rumble.
But this year's Royal Rumble wasn't outright bad. It was just there, refusing to be great in a WWE that's become amazing—at least with regard to the potential of who's in the company, and what could happen with the people it has. There's certainly nothing wrong with Randy Orton winning the whole thing in order to enable a possible feud with Bray Wyatt. All the little nods and acknowledgments to previous storylines and current dynamics (including the final three of Randy Orton, Bray Wyatt, and Roman Reigns, rehashing the 2015 #AnyoneButYou angle) were at an all-time high. Things were good in light of the pursuit of telling good stories.
Orton winning the Rumble instead of Reigns was a welcome result only for who Reigns was and where he is in the corporate totem pole. His emergence as #30 was a sign that like his onscreen character, the company just wasn't about to give up on him. While not as explicitly offensive as the rest of the community makes it sound, it was just all a huge waste. Roman wasn't wanted, he didn't win anything despite looking like he was going to, and stole a spot from someone else who could've used it, surprise or not.
Although it seems like people were just disappointed with who didn't show up at the Rumble, the dissent is rooted in far more than that. It's just that the WWE refused to do more with what they had, and in some cases, do right with who they had. Braun Strowman, a huge force of nature they were building up, was eliminated too soon. Dean Ambrose and Dolph Ziggler, arguably two tentpoles of SmackDown, were discarded like nothing. Only one young star, Sami Zayn, was made to look better coming out of the match than when he came in.
Perhaps the greatest disappointment with this year's Royal Rumble is not merely the refusal to do better, but the refusal to take it to the limit, maybe past it, when they were already doing so many good things. It's the resignation that these few good things, these small attentive nods to continuity would be enough for the fans to swallow the whole thing as a good Rumble. It's a shame—all of it set the foundation for a memorable Royal Rumble, but they never built the damn thing at all.
*****
The Braun Strowman interference in the Universal Championship match was very much welcome. However, the only problem was that obviously, this looked like and should have been a setup for Strowman/Reigns later in the evening. Instead, Strowman was eliminated by Baron Corbin (???) long before Reigns could even come into the Royal Rumble match, sending strange signals for a potential Strowman/Corbin feud. While that's a good enough spectacle on its own, stick to one thing. I would've preferred to see Strowman toss out an injured Reigns a second time to further the storyline.
I'm okay with John Cena winning the WWE Championship from AJ Styles. I just wished it was because someone big was coming up and challenging him for the title at WrestleMania. I guess not.
Bayley and Charlotte work much better with each other, but only because Bayley is a better wrestler than Sasha Banks. Fight me.
Rich Swann may have been the best Cruiserweight Champion we've had so far, and that's counting Heel Neville. It's also a shame that I have to name him a better babyface anchor for the division than TJ Perkins, but facts are facts. I don't mind seeing a protracted Swann/Neville feud for the title over the next few months.
Photo from WWE
Romeo Moran (@roiswar) is the Editor in Chief of Smark Henry and one of the three hosts of the Smark Gilas-Pilipinas Podcast. He gets by in this hard knock life through working in publishing. Smark Henry was his and Stan Sy's original vision of a watering hole for local wrestling fans. He roots for the undersized guys who hit hard, but really hates Davey Richards with his entire soul.