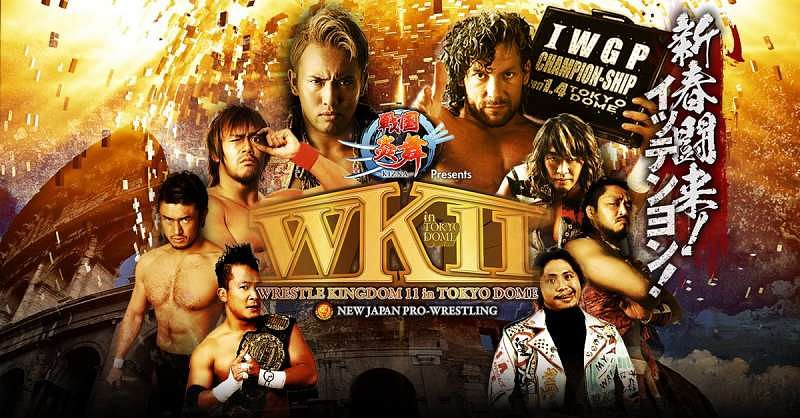 Wrestle Kingdom 11 has come and gone, and New Japan has left us with another Tokyo Dome show to remember. From top to bottom, the second largest wrestling company in the world once again delivered the goods, but which matches are the best, and which ones are not worth your time? To answer that, we decided to take a page from how we usually rate PWR shows and base it on the one universal language of love: good, old-fashioned, great-tasting food. Or in this particular case, Japanese restaurants or food places. That being said, we are rating the event based on the following:
The Tsukiji Level
The absolute place to go to for sushi lovers, it is as revered as it gets. It may involve having to travel to Japan and going to the place way early to get a chance to try their sushi for breakfast, but believe you me, it's worth it! It's practically the 6-star equivalent, and only happens once in a blue moon.
A (Six) Star Above The Rest
Remember how Sami Zayn and Shinsuke Nakamura managed to drop the jaws of audiences in utmost awe when they faced each other on their first time encounter? That is Kazuchika Okada vs. Kenny Omega in a nutshell, except they may very well have shattered any and all expectations for the rest of the year!
Despite their first singles meeting, they combined incredible athleticism and great attention to detail with a well-constructed story throughout what is considered the longest Wrestle Kingdom main event in history. You cannot help but admire the beauty that is this match unfolding, as if these two bonafide stars have given New Japan a renewed sense of hope—that there was no need to put the entire weight if New Japan solely on Tanahashi's shoulders anymore. It was a main event worthy of the Tokyo Dome, and yes, worthy of the six stars given by Dave Meltzer himself.
Everything about this match felt right. The crowd's energy, the exhibited psychology, the pacing, and most importantly, the result felt like everything has become right in the world again. Omega, in one night, officially became the gaijin megastar the company needed in the midst of their worldwide expansion, and Okada solidified the position he was put in a year ago: the new generation ace of the company. Words simply do not give it justice, only their battle scars and the praise of the entire wrestling community. Seriously, subscribe to New Japan World, look for this match, be amazed, and show them how much you support the company by becoming a regular subscriber. Go on, go!
The Izakaya Kikufuji Level
Going to Tsukiji may only happen but a few times in our lives in some cases, but when it comes to accessible Japanese restaurants in the country, you cannot go wrong with Kikufuji's sushi and sashimi (among others). It's a true Little Tokyo staple that you can assure to have both quality and affordability in mind.
Buenos noches, 2017!
Tetsuya Naito turned nothing into a marketing machine and helped drive new fans into the fold while the LIJ's merchandise continue to be top sellers. In the process, he became the megastar he was meant to be while elevating new stars under his group. This win is the culmination of everything Naito has done throughout the year, with him finally ending his singles Wrestle Kingdom losing streak. And how appropriate that the win would come from the future Hall of Famer that is Hiroshi Tanahashi, the man that helped rejuvenate the company from its unsavory past.
In a sense, he has become what John Cena is today, and that certainly ain't a bad thing. He will still be a major draw and a pillar of the company, but as we have seen, moving forward, don't expect him to be the true Ace he once was, regardless of what his new theme might tell you.
Being said, it was a night where Naito finally redeemed himself as a star of potential. Tranquilo!
The NEVER-Ending #FightForever
If you came watching this match with the expectation of brutality associated with the NEVER Openweight division, then you came in with the right mindset.
Shibata and Goto absolutely delivered the goods, with more physicality than their previous encounters. Dare I say, this may have been the most brutal encounter they ever had. The Wrestler may be the current embodiment of Strong Style, but Goto did tap into his more ruthless side, a nod to the continuity that is his career-changing 2016 when he joined CHAOS. Goto winning the belt was an unexpected call, but it did cap off an interesting 2016 that saw quite a number of changes all around. If this means Shibata can move on to new things of the Intercontinental or Heavyweight nature, then we can't wait to see what he will do next. As for the Samurai, here's to hoping his 2017 will be way better than his 2016 and make him the star he was meant to be.
Ticking! Time! Bomb!
What is it about first time encounters and tearing the Dome down?
These two may never have met in singles competition before, but in one night, they immediately rejuvenated a division in need of stardom. It was truly a clash of contrasting styles, KUSHIDA being the high flying submission expert and Hiromu as the explosive dynamo, living up to his Ticking Time Bomb moniker. It was a great blend of chemistry between two different personalities, one can make the argument that it is anyone's ballgame. But unfortunately for KUSHIDA, the wild tenacity of Takahashi proved too much on this night, ending the former's title reign with the Time Bomb.
Seriously, this could be the Tanahashi vs. Okada of the Jr. Heavyweight division that was sorely needed for years, and a rivalry may very well bring prominence to a scene rich with talent such as Will Ospreay and Ricochet. The time bomb may have exploded, but the time is ticking for a rematch. People will tune in, that much is true.
The Dohtonbori Level
Dohtonbori, to their credit, has very good okonomiyaki that they can make in front of you. That, alongside their other offerings and relatively easier accessibility and affordability, makes this the place to be when it comes to your Japanese food fix.
Tag Team Storytelling Done Right
It's been a long time since there was a focused Jr. Tag Team rivalry in a New Japan ring, and my, what a difference this makes for the division. After years of having multiple four-way bouts for the Jr. Tag Titles (not that it's a bad thing, mind you), we were treated with a team vs. team bout that was full of both high-octane action and storytelling, especially given the past problems between the members of RPG Vice.
This became a major factor late in the match when Beretta went for a huge dive and hit hard on the outside floor, turning it into a 2-on-1 situation. In the end, it took a surprise from Beretta recovering from the dive that allowed Rocky to quickly make the pin and effectively become the new champs, Rocky officially becoming the man with the most number of Jr. Tag Team reigns in history.
For how much expectations we have of these teams when it comes to the high flying spectacle, we tend to forget that they are able to tell such a good story as well, leading up to the historic victory. Hopefully, we will be able to get more fleshed out stories within the division in the coming months as being able to emotionally invest in a story will lead to long term gains. Good job!
FANTASY WARFARE JUST GOT REAL
Let us give credit where credit is due: when New Japan is set out to do something to promote the overall product, they go all the way. Hell, they even had Suzuko Mimori of Love Live! fame entering to the ring as her character, Haruna, and introduced Tiger Mask W the same way her character did at episode one! Serious dedication.
It seemed odd at first to have this match start the show, but knowing who portrayed both Tiger Mask W and Tiger the Dark, we were bound to get an awesome match from these two stars. They knew how to get the crowd pumped up, and hell, they even did some of the trademark moves shown in the anime! Let it be known that they kept kayfabe up to the standards expected of them (save for some, ahem, golden star moves). Overall, it served its purposes well: promote the anime, pull off a great match, and warm up the Tokyo Dome crowd.
3-Time, Bay Bay!
If there is something that was unexpected in the show, it's Kyle O'Reilly losing his ROH World Championship against his rival, Adam Cole, just a few weeks after winning it in a brutal title bout. But with these NXT rumors, you just never know.
Nonetheless, it is still significantly better than last year's ROH title match, with these two pulling out all the stops to make this match worthy of the Tokyo Dome. Glad that Ring of Honor decided to have these two represent the company in the biggest stage there is outside of WWE. Whatever the future is for these two, they truly made an impression at the Dome and in front of possibly the biggest crowd they ever competed for.
12 Men, Four Teams, Three Matches, A Trio of Titles
If the NEVER Openweight Six-Man Tag Team Championship Gauntlet would be an annual tradition moving forward, then honestly, we would not mind it at all. It allowed many deserving stars to show off their goods in front of the largest Japanese wrestling crowd of the year, and funny enough, all factions came out looking like they have some sense if momentum going into the new year (yes, even Yujiro and the well-received Jado).
By the end if the day, however, the real beneficiaries of this exchange are the LIJ trio, who looked good in their two consecutive matches with Bullet Club and the now-former champions, Kojima and Sons (if you can come up with a better name, shout it out in the comments!). LIJ is a good example of quality over quantity, and it is good to see that their work, particularly EVIL's phenomenal improvements, were being recognized. SANADA holding NJPW gold was long overdue, and is one step closer to tasting main event status; a spot he so rightfully deserves.
An American Nightmare And A Moonchild
It may not be the Shibata match he had on his list, but on his first day in NJPW, Cody started off on the right track against a former WWE guy in Juice Robinson, who finally showed everyone the talent that WWE somehow could not tap. Heck, this may be the most WWE match in the entire card, and that isn't necessarily a bad thing.
The American Nightmare lived up to his name, tapping into his evil, devious side as he intended to hurt Juice bad. As though complementing Cody's natural heel tendencies, Juice showed tremendous resilience in the face of adversity, a welcome component to the Robinson character that allowed him to capture the fans' attention. Cody winning was elementary, sure (and we can forgive that Disaster Kick botch), but Robinson gained way more in defeat: a character that fans can invest on. Truly, WWE's losses are NJPW's gains.
A Pitbull and A Thief
As a match, the three-way was as fun as it can be, with Yano's antics surprisingly adding more value than anticipated in a match filled with talented bruisers. The GOD finally looked like the well oiled machine they were meant to be as brothers, GBH continues to electrify fans with their charisma and aggressiveness, and shockingly, Yano and Ishii looked well as the contrasting tandem that can gel well as a unit.
As a match, this works well as an enjoyable tag team title encounter reminiscent of past Wrestle Kingdom shows. If there one gripe about this, however, it's the fact that they threw away the integrity of the recent World Tag League by allowing Yano to interject on the supposed tag champs versus World Tag League winners match at Wrestle Kingdom, turning it into a three-way out of nowhere. Don't get it twisted: Yano and Ishii are great, but there are certainly other ways to go about this besides a random Yano appearance and him getting what he wants.
For a Tokyo Dome show, New Japan once again outdid themselves with an excellent quartet of main event matches and a solid undercard. But what did you think? Is it better than previous years or were there certain things lacking? Sound off in the comments!
Images from NJPW and respective owners