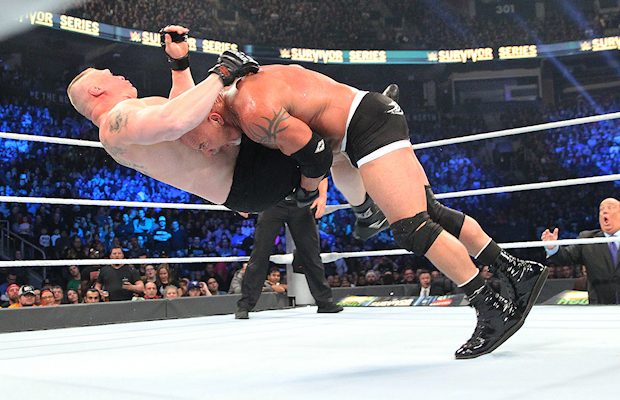 Good morning, and this is your daily Grapevine! This section of Smark Henry is where we round up all the founded and unfounded rumors abound the pro wrestling scene that you may have missed over the evening.
Here's the last thing you'll probably hear about Goldberg vs. Brock Lesnar:
Apparently, the announce team calling the Survivor Series main event was told to call the match like a fight. Vince McMahon felt that audiences today would have been familiar with MMA and UFC and how suddenly those fights could end, so they wouldn't have felt shortchanged by the finish. (Source: WON)
We say: Oh, how tone-deaf does this make Vince look? Just because the crowd is aware of how MMA fights could end doesn't mean that's how they want pro wrestling matches to end. Pro wrestling fans want to watch pro wrestling.
TNA, Anthem Sports and Entertainment, and Billy Corgan have finally agreed on a settlement. All the paperwork has reportedly finally been finished, and Anthem is moving forward as the majority owner of TNA after everything is completely settled. TNA will be taping new episodes of Impact Wrestling at Universal Studios Orlando in January. (Source: PWInsider)
We say: TNA lives to fight another day, but this puts another huge dent in their overall perception. Let's hope they're better in 2017.
Let us know what you think of today's news in the comments!
Photo from WWE