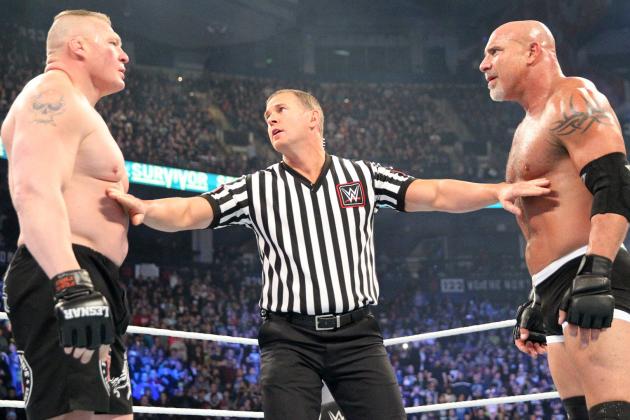 Good morning, and this is your daily Grapevine! This section of Smark Henry is where we round up all the founded and unfounded rumors abound the pro wrestling scene that you may have missed over the evening.
We're sure you all want to know what the holy hell just went down in the main event of
Survivor Series:
The reason why Goldberg vs. Brock Lesnar was as short as it was is because other than the former still not being in ring-ready condition, he had just signed for another match at Royal Rumble. The deal was reportedly made last week, with Brock especially pushing for it because he thought there was a lot of potential for money, and they decided to do a squash because that was what got him over in the first place. (Source: F4WOnline)
We say: There you have it, then. Does the idea make sense? Sure. Was it the best idea? We'll see.
Shane McMahon was legitimately hurt after the Coast 2 Coast was countered into a Spear by Roman Reigns. Both men were hurt from the spot after they apparently bumped heads, but Shane said a while after that that he was feeling fine. (Source: F4WOnline)
We say: Can this be a wake-up call to keep Shane out of these things already? If it didn't build up to Shane vs. Brock or even Shane vs. anyone, it wasn't much of a good opportunity.
Tye Dillinger is teasing that he'll be on RAW tonight. He tweeted to a fan, hinting that he might be there.
We say: This could mean anything, and we'll believe it when his music hits.

Let us know what you think of today's news in the comments!

Photo from WWE