The year was 2015…
It was beautiful days for "The Authority" back then, Seth Rollins was our favorite heel, Triple H and Stephanie were our less favorite bosses, and all was well with Roman Reigns' being denied his next heavyweight title reign. All was well until Seth got injured and Roman Reigns had his
WrestleMania
moment which also resulted in Triple H, the Authority, and Seth, becoming a distant memory.
But today is 2016…
A brand-split occurred that should've paved the way for the inevitable return of Seth to become
Monday Night RAW
's Universal Champion. He didn't get it on the first opportunity against Finn Balor, but he got in the Fatal 4-way Championship match when Finn had to vacate the title due to injury.
It was about damn time for Triple H to return to television and hand Seth Rollins the title he vacated due to an injury as well. All was well again, Triple H got rid of Roman Reigns, and it was just Kevin Owens who stood in the way. But then Triple H had a change of heart and handed Kevin Owens the title at the expense of Seth. Surprise, surprise, Trips was back.
The Road to WrestleMania
Nevertheless, with Royal Rumble coming up and Triple H teasing an "anyone can make an appearance on the Road to
WrestleMania
," wouldn't it be nice to see a Triple H vs Seth Rollins showdown? You know, master vs. apprentice, The Cerebral Assassin vs. The Architect, The King of Kings vs. The Undisputed Future?
Maybe time will tell, but for now let's just debate this: who executes the Pedigree better, Triple H or Seth Rollins?
The Pedigree
The Pedigree is technically a double-underhook facebuster. To set up the move, the executing wrestler has to lock their opponent's head between their legs before securing them in position by hooking both their arms in a double-underhook. The wrestler then jumps, I've noticed, going backwards, lifting the opposing wrestler, and finally, driving them face-first to the mat with the weight of the attacker crushing the receiver's skull.
The opposing wrestler needs to do two things: First is to jump at the same time as the executing wrestler; otherwise the lift would be too low. Secondly, he needs to position his body parallel to the canvas in order to expose his entire body and create a loud thud upon impact. Note that the executing wrestler has to jump backward; jumping in a pure vertical plane makes it difficult for the receiving wrestler to go parallel to the mat which would result in them missing-out on the split-second, photo-ready hangtime moment, making the move more grandiose. Kayfabe-wise, the backward leap also makes the receiver less likely to protect his face-first fall by using his knees to minimize the impact.
The Game vs The Architect
So who does it better?
Physically speaking, Triple H is a more imposing guy. Weight matters, in this move. When he does lock it in and executes, you just know the match is supposed to be over. While watching this move, one has to consider that the weight of the executing wrestler is directly applied to the face of the receiving wrestler. Triple H weighing more obviously wins this point.
I did mention that this move has the split-second hang time. Seth being more of a high-flyer should have this point. But do remember that it's not like you have to jump very high for this move, it has to have just the right height. I haven't seen that kind of execution from Seth's version that produces that awesome hang-time moment, giving Triple H another point. Rollins tends to have a "flatter" Pedigree—sort of like comparing a Chandler Parsons jump shot against a Klay Thompson swish.
Okay, I will admit, I am really biased towards Triple H only because Seth has so much more potential with his in-ring ability. Technically speaking, I feel that Seth has more moves in his arsenal and could develop more given his unlimited potential. Hence when I first saw him use it, and now more regularly, I still want the "Curb Stomp" to make a comeback.
Remember that
WrestleMania
moment with Randy Orton? Beautiful.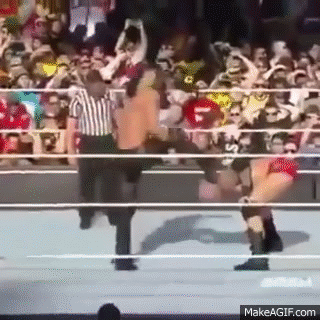 I guess what I'm trying to say is that some moves look better on bigger wrestlers and some moves that look better on smaller wrestlers.
Who does it better? My verdict, TRIPLE H.
Beyond The Execution
So if Seth owns a clearly inferior version, then what's the point? Why not just revive his classic finishers like the God's Last Gift or Avada Kedavra?
The answer, it seems, is spite. In a Facebook Live Q&A, the architect gave all of us his singular reason to keeping a move he's just a second-rate user of.
"Look, the reason I did the Pedigree to begin with was as a tribute to Triple H. So now, every single time I deliver a Pedigree it's me sticking my fist up in the air and telling him to stick it up his rear end. He thinks he can stick it to me by anointing Kevin Owens as the new guy? There is no replacement for Seth Rollins. So every single Pedigree from now until I drop Triple H on his big, stupid nose, that's gonna mean something. That's me sticking it to the man, sticking it to Triple H. So no, no new finisher, not until I'm done with Triple H."
We don't think Haitch will take too kindly to those fighting words, big stupid nose or not.
*****
What do you think, Henrinites? How can Seth Rollins improve his Pedigree to match Triple H's? Let us know in the comments.
*****
Gene Ferrer (@thegeneferrer) is Smark Henry's newest contributor, and the new king of finishing moves. He isn't actually a wrestler, but is pretty good at figuring out what would hurt like hell in real life.