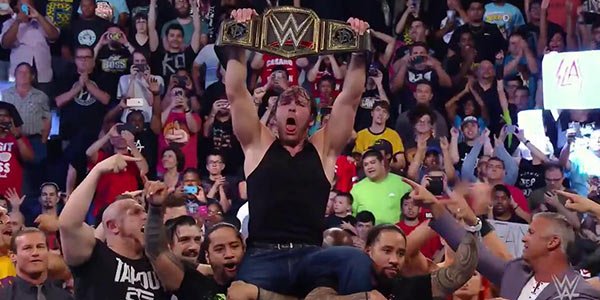 (Ed's note: Romeo now writing this thing.)
Battleground 2016 had no business being as solid as it was. Not spectacular, but surprisingly decent.
It's stuck in an awkward place—happening after a rushed WWE Draft and right before the brands are officially split. Everyone knows that the landscape has changed, but the event comes from a place where status quo's shaking up is under embargo. While some outcomes are left up in the air, others have been foregone.
Instead, those who need to treat Battleground as a platform for better things—to show why the WWE should take a chance on them—wisely pounced on the opportunity. To paraphrase NBA commentator Clark Kellogg, good wrestling forgives all sins, and the wrestlers shone through the murk the Creative team left behind in the wake of the Draft. Guys like Zack Ryder and Darren Young, with their predictable title shots, proved why people called them underrated.
Conversely, other guys like Sami Zayn and Kevin Owens and all three ex-brothers of the Shield showed why they
had
to be separated from each other, because they all have that special something that would be ground down by constant battle.
The main event of the evening was phenomenal as expected, but was slightly watered down by the addition of the McMahon Element—instead of being a story about a broken brotherhood and passions running high, it's also a story of two siblings battling with two halves of a corporation. I guess it makes sense considering where
Battleground
is in the grand scheme of things, and at least it leaves us open for a "purer" rematch at a bigger event, wherever and whenever that would be, whether it's at
WrestleMania
next year or
WrestleMania
three, four, five years from now.
But if anything at all, the visual of Shane and Stephanie McMahon, with Daniel Bryan and Mick Foley respectively in tow, is what this show signifies. It's an earnest, if rushed, goodbye to the last five years of ambivalent, arbitrary, meandering storytelling, of imaginary brass rings. And if you look a little closer, it's a warm welcome to a future—whether it's painfully quick or longer-term—that's bright, a future where the veterans seem to trust the young lions to carry the company. And it's all we've ever wanted.
A-/B+
Full match results
Breezango def. the Usos in a kickoff match
The team of Sasha Banks and Bayley def. the team of WWE Women's Champion Charlotte and Dana Brooke
WWE United States Champion Rusev (w/ Lana) def. Zack Ryder to retain the title
Sami Zayn def. Kevin Owens
WWE Intercontinental Champion The Miz (w/ Maryse) def. Darren Young (w/ Bob Backlund) to retain the title
The team of John Cena, Enzo Amore, and Big Cass def. The Club
WWE Champion Dean Ambrose def. Roman Reigns and Seth Rollins in a Triple Threat Match to retain the title
Photo from WWE
Romeo Moran (@roiswar) is the Editor in Chief of Smark Henry and one of the three hosts of the Smark Gilas-Pilipinas Podcast. He gets by in this hard knock life through working in publishing. Smark Henry was his and Stan Sy's original vision of a watering hole for local wrestling fans. He roots for the undersized guys who hit hard, but really hates Davey Richards with his entire soul.