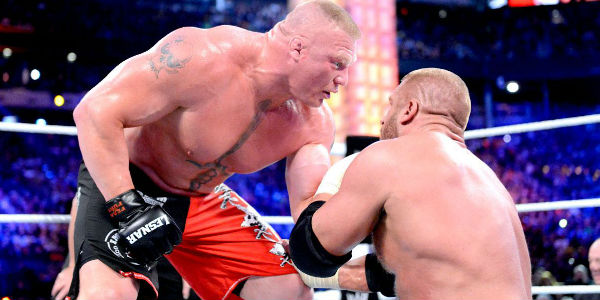 Good morning, and this is your daily Grapevine! This section of Smark Henry is where we round up all the founded and unfounded rumors abound the pro wrestling scene that you may have missed over the evening.
The Beast is coming back:
Brock Lesnar is scheduled to return to TV for the WWE Draft episode of SmackDown on July 19. Lesnar's return was supposed to be for a few weeks after that, but the brand split clearly changed those plans. (Source: WON)
We say: We're so ready for a Dean/Brock rematch for SummerSlam. Let's make this happen.
Speaking of returns, Randy Orton's return is now scheduled for August. It was previously reported that he'd be coming back in June, but it turns out his injured shoulder is still not 100%, and he's still a month away in training for the ring. Orton is scheduled for WWE live events in mid-August. (Source: WON)
We say: We're low-key excited for an Orton comeback, though. The matchups he can have right now are pretty fresh.
Roman Reigns was reportedly ordered to apologize to the entire locker room for violating the Wellness Policy. It seemed like a move that came from Triple H, as Mark Carrano, head of talent relations gave the order and is apparently a Triple H guy. On a financial note, Reigns is not going to get paid both their regular pay and their downside guarantees, so he's losing around $100,000 mostly for the house shows he was supposed to main event. He will still get paid for merchandise and royalties, and, of course, for his PPV appearance at Battleground. (Source: WON)
We say: We think the apology was necessary, but would have been better if it was of his own volition and not a corporate directive. Nevertheless, we wish we knew all the details so we can properly analyze and judge the situation.
Let us know what you think of today's news in the comments!
Photo from WWE