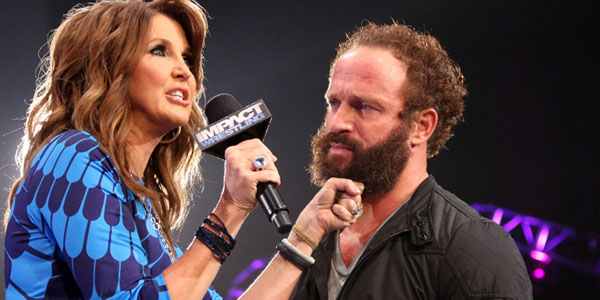 Good morning, Henrinites, and welcome to your daily Grapevine! Here is where we round up all the rumors, news and bits of hearsay in the wild world of professional wrestling that you may have missed over the evening.
We have updates on TNA's sale:
Although to whom TNA will be sold has not yet been made final, the company is restructuring its talent deals so that their wrestlers are exclusive. Also, they have been trying to offer more money to free agents. This is so that they retain more value in the eventual sale, but the actual details thereof aren't yet public. One source does say that when TNA does change hands, Dixie Carter and Executive Vice President John Gaburick will still be in control. (Source: WON)
We say: That last part doesn't sound good. So basically, TNA wrestlers are just going to sign the rest of their livelihoods away to a job where nothing is really changing, creative-wise. Good luck with that, guys.
Adam Rose has deleted all his posts about his suspension. He even deleted his first post in which he stated he did not do anything wrong.
We say: While this looks like he's in danger, it looks more like they've reached a settlement backstage. It's likely that they threatened to fire him over what he posted, but considering he has a lot of leverage on his side, it's also just as likely that they've decided to take back the suspension as long as he takes the posts down. We'll see in the coming days.
Eric Young has not officially signed with the WWE yet. Young made his official TV debut this week, losing to Samoa Joe on NXT. (Source: PWInsider)
We say: While this is standard for NXT now, we just wish they'd actually sign people before putting them out on TV. The James Storm scenario last year was kind of embarrassing, and although it seems EY isn't keen on going anywhere, how stupid would everyone look if he decided to walk after cutting the typical "this is where I belong" post-match promo?
Speaking of NXT, WWE is considering two new Network-exclusive tournaments: a Women's tournament and a second iteration of the Dusty Rhodes Tag Team Classic. Both tourneys would likely feature a mix of roster and non-roster talent, just as in the Cruiserweight tournament. And speaking of that one, the Global Cruiserweight Series will apparently be renamed to The Cruiserweight Classic, according to WWE.com. (Source: WON)
We say: MAKE ALL THE TOURNAMENTS.
Randy Orton's rehab is going slower than expected. He's recovering, though, and he could be back training in the Performance Center by June. On a related note, Seth Rollins is likely to be back on TV soon, as he just wrapped up Temple for WWE Studios. (Source: WON)
We say: Orton needs to take all the time he needs, as it's likely that whatever run he'll have next will be his last prominent one. Meanwhile, we can't wait to have Rollins back, with all the new blood on top of the card. (And the inevitable clash with Triple H.)
What do you think? Would you work exclusively for TNA if Dixie were still in control? Who would you want to see on a Global Women Series and the second Dusty Rhodes classic? Let us know what you think in the comments!

Photo from TNA