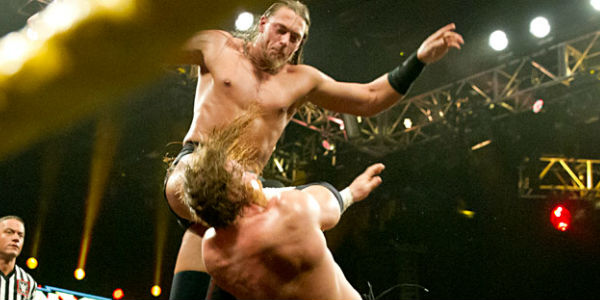 Good morning, Henrinites, and welcome to your daily Grapevine! Here is where we round up all the rumors, news and bits of hearsay in the wild world of professional wrestling that you may have missed over the evening.
Could Big Cass be getting a name change? It's possible that he could end up being called "Colin Cass," if he doesn't go with his full name, as Vince McMahon apparently doesn't want it to be too close to Big E. Vince seems quite high on Cass right now while he's experiencing a minor singles push after Enzo's injury, and people backstage are hoping that Enzo doesn't get left in the dust while his partner's getting all the shine—even though Vince is said to be pretty high on Enzo as well. (Source: Daily Wrestling News)
We say: The name change just sounds silly. First of all, if Big E is the concern, then why weren't they afraid Big E was too close to Big Show? And if you're going to call him Colin Cass, you might as well run with the full name. It's tough to take this bit without a bigger grain of salt as it's not a popular source of dirt. (If you're going to ask us, if this were really a concern, let's just call him Cass. Just Cass. It sounds and looks dumb, but people already know him by that.)
NXT backstage interviewer Alex Reyes has been released. Reyes follows the surprising releases of Main Event, Superstars, and former SmackDown and NXT play-by-play announcer Rich Brennan and WWE YouTube personality Kyle Edwards. Sources reportedly say that all three share a common reason for getting fired—along with beloved ring announcer Justin Roberts—in that WWE, for some reason, frowns upon employees who are self-professed diehard wrestling fans. All three saw their roles reduced this year, while Roberts's contract was not renewed back in October 2014. (Source: Pro Wrestling Sheet)
We say: It's a little tough to substantiate this news, but we have previously heard of dirt about WWE looking down on lifelong fans (AJ Lee, for one). It's extremely, extremely petty, and we sincerely hope it was never the reason (at least, the biggest reason) why these qualified talents were let go.
Let us know what you think of today's news in the comments!
Photo from WWE