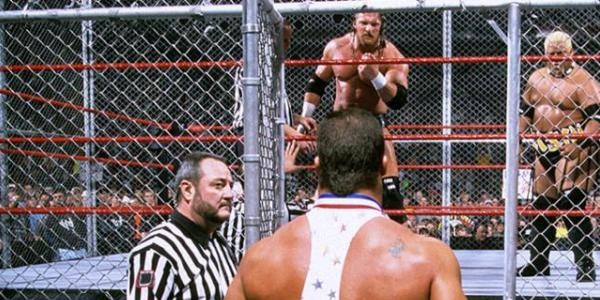 Good morning, and this is your daily Grapevine! This is where we round up the most interesting rumors and news happening in the wild world of wrestling that you may have missed over the weekend.
Not too much news coming out of
Roadblock
yesterday:
Triple H reportedly met with Kurt Angle last weekend. Angle was also at the Arnold Sports Festival in Columbus, Ohio, where NXT held a card, to be inducted into the International Sports Hall of Fame. There is no word on what the two discussed. (Source: WON)
We say: Sounds interesting. Angle did say that although he was leaving TNA (the last match of his farewell tour was on last week's episode of Impact Wrestling) he wasn't retiring from wrestling. Let's see if this results in a major return. It's best to take this with more than just a grain of salt, however, as for all we know it could just be Triple H catching up with the Olympic gold medalist.
The main reason why last night's Brock Lesnar match was mostly him versus Luke Harper is possibly because they're still saving Lesnar/Wyatt for a future show. The match was originally planned for WrestleMania 32, but apparently there are still plans to do that. (Source: Wrestling Observer Radio)
We say: Makes sense, and at least a house show wasn't a bad place to shortchange the audience. Would they at least consider giving him the win?

Photo from WWE