Welcome back to your weekly fix of ass-whoopers and call-yo-mommas, #FinisherFriday!
Just to be straightforward, I have no idea what 3/18 means in the wrestling world, but maybe we can label it as the day Smark Henry showed you how Steve Austin whooped ass with this week's version of #FinisherFriday!
For the past couple of #FFs, there were mentions of one of the, if not the ultimate, move that defines what a wrestling finisher should be, the Stone Cold Stunner. Despite having a vast wrestling moveset which consists of the Lou Thesz press, elbow drop, mudhole stomp, middle finger flips, mudhole stomp, another mudhole stomp, among others, he has built up his version of facelock jawbreaker as a move to be reckoned with.
Arguably the most popular wrestling move, the Stone Cold Stunner is destructive, demoralizing, and downright disrespectful, which fittingly, is possessed by the biggest son of a bitch wrestling has ever seen.
Fondly looked up on as the "face of the Attitude Era", the legendary Stone Cold journey is a winding trail of glass shards and broken bodies. Now while some of us SCSA fans know his past of (mudhole) stomping around the yards as a dangerously stunning blonde ringmaster, let us, Smark Henry boiler room dwellers, take you back to the past and possible evolution of the Steve Austin finishers.

Stun Gun
Probably one of his more earlier finishers, Austin's flapjack to hangman attack shows both a desperate, yet brutal in-ring style. He doesn't just attempt to incapacitate his opponent, he maims them as he sends their necks to unbelievably stiff ring ropes (ever wonder why wrestlers slingshot back when Irish-whipped?)
Million Dollar Dream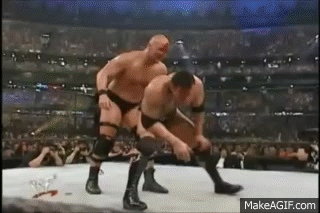 As a protégé of the Million Dollar Man, Ted Dibiase, the Ringmaster Steve Austin has been using the Dibiase-branded Million Dollar Dream. More commonly known as the Cobra Clutch, this arm-trap half nelson sleeper is used to cut off the carotid artery to the unfortunate wrestler, pushing him to either submit or lose consciousness.
Interestingly, we see a stunning knack of moves in which Steve Austin, well, stuns his opponent senseless. This is which, actually ironic, as his finishers do not necessarily "stun" but actually maim. He has built his finishing moveset as seemingly trying to chop heads off, a pattern in which The Bionic Redneck taps on his animal instincts by going for the jugular. A trait mainly associated with the kings of the jungle. And this "survival of the fittest" mindset has given him another dimension to a character and charisma like no other.
And you have to remember that his once-bitter rival, Vince McMahon, proclaimed Stone Cold Steve Austin as the "greatest WWE Superstar of all time."
Any arguments will be replied with an annoying rhetorical one-liner retort, cause you know, that's the bottomline, 'cause Stone Cold said so!!!
#FINISHED
*****
Lynch Imbat
(@imbatlynch)
is a marketing guy by profession. He has a few constant things in his life: his family, his comics and his wrestling. Unsure if it were the plastic chair shots to the head, pro wrestling has altered his ways of understanding the intricacies of the world through finely crafted storylines and savagely fought feuds. Now that he has found a community of wrestling marks, he continues to learn and understand more while sharing his own views about wrestling.