Time to get down and dirty yet again as Friday rolls along! But before we get too amped up for the weekend, Smark Henry brings you everyone's favorite pop-up powerbombing, blade-slinging, and helluva kickin' column theme of the week, #FinisherFriday!
While
last week's article
was a somber recollection of my inner thoughts and #feels, this week's edition brings forth something that has been bothering me ever since I started writing for this site. What makes an effective finisher? Granted, the art of the finisher is really more focused on what constitutes it as a finisher and how it affects the greater narrative of a wrestler.
Now, imagine that you are a wrestler. And taking all that into consideration, what would be the move that would grant you a critical supporting detail to your character while looking legit AF. Do you go for the devastating knock-out maneuvers, make-you-cry-out-momma submission holds or highly sensational and risky athletic maneuvers? Perhaps to best answer this question, we take a look into an enigmatic entity that has finally found his way to the WWE, the so-called champion of the (hopefully) washed masses of the IWC,
AJ Style
s.
Yup, although
we briefly brushed by the topic of the Phenomenal One in the past
, it's interesting how he has been making waves in his still-young tenure in the WWE ring.
Now, much has been said about the WWE style, but it is never boring. That's a different discussion for another day, because it seems this has been said to be cramping AJ's style of high-flying acrobatics technical prowess. This eclectic mix has allowed him to become the wrestling darling that he is, and some who are unhappy that he has suddenly become a watered down version of the Phenomenal One, at least in terms of his moveset, pointing fingers to their once agreeable decision of Styles finally finding his way to the biggest wrestling promotion in the world.
His version of the belly-to-back inverted slam is noteworthy to say the least. Different eras, different countries, different crowds, yet same old dangerous move, he has proven that his primary finisher, the Styles Clash is well-regarded as a finisher to beat.
As presented and protected as it was in TNA and NJPW and all the infamous bodies left behind with broken necks, there was a legit sense of awe and fear when AJ sets up his opponent, truly serving the purpose of a killer finisher. Unfortunately, this has been rumored to be a no-no in his current stint in the WWE for all the same reasons.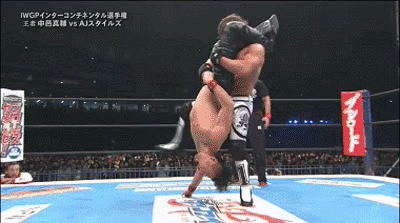 Same could be said for AJ Styles' modified leg slicer compression lock called the Calf
Killer
Crusher, a straightforward, uncomplicated, painful-to-watch submission move that he has busted out to finish some matches in the WWE. But submissions in the WWE are a bit tricky to put over especially if you're aiming to be either dominant (look: Rusev, Chris Masters, Khali) or legit (Daniel Bryan, Chris Benoit), especially if you're someone of AJ's stature, at least in the land of WWE giants.
But then we look at the point of dispute, at least the crux of it. AJ has been whipping out his patented flying forearm smash to finish quite a few matches and has been featured more than his other more notable signature moves.
There was a time that lariats, neckbreakers and DDTs were once labeled as devastating finishers, while strangely now, you see every other bit wrestler whips them out as either regular or transition moves. And this AJ Styles hullabaloo goes well along the lines of what serves as an efficient finisher. A technically common strike move, none more different that a dropkick or an elbow drop has taken over banging slams and crippling holds. Not sure if this was intentional, but AJ is either becoming the catalyst to a nod to the past or he's simply turning into the new Heath Slater.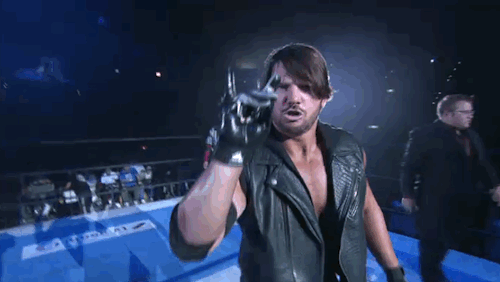 Unless he's joined the merry band of VKM in fucking with the IWC.
And this also serves as the irony of what the critics have been saying about the WWE style. In the concussion era, what really matters to us and the WWE? An impactful, yet dangerous style of wrestling? Or impressive, but simple method of storytelling?
Beats me.
#FINISHED
*****
Lynch Imbat
(@imbatlynch)
is a marketing guy by profession. He has a few constant things in his life: his family, his comics and his wrestling. Unsure if it were the plastic chair shots to the head, pro wrestling has altered his ways of understanding the intricacies of the world through finely crafted storylines and savagely fought feuds. Now that he has found a community of wrestling marks, he continues to learn and understand more while sharing his own views about wrestling.