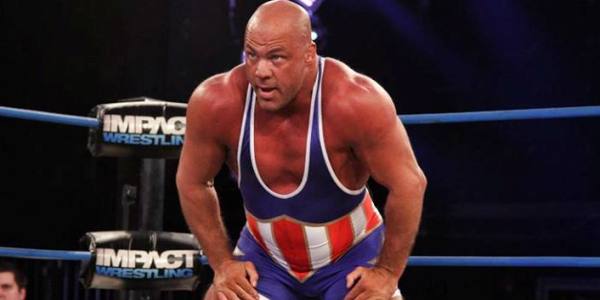 Good morning everyone, and welcome to the Grapevine! This is our daily post rounding up all the interesting rumors from the wild, wild world of pro wrestling that you may have missed over the evening.
We kinda have no choice but to turn the Grapevine into an injury update column today:
Kurt Angle had a concussion scare at the Impact Wrestling tapings in Manchester last Friday. He faced Drew Galloway in the first night of the tour, and looked to be in bad shape after the match. He was eventually cleared by a doctor and proceeded to wrestle Bobby Roode and Lashley in the tour. Mandrews also took a shot to the head and looked bad, but he appears to be okay. (Source: PWInsider)
We say: Not sure what we can say about this, but we hope it's not one of those situations where they clear wrestlers just because they have to continue working. Concussions are, needless to say, serious business.
In some good news, Alberto del Rio has apparently been cleared to wrestle. We reported yesterday that he might have suffered a back injury (that turned into a possible neck injury) but it seems like there's nothing to worry about. His United States title match against Kalisto at Fastlane is pushing through. (Source: WrestlingInc)
We say: That is some good news. Glad to see that the League of Nations isn't the League of Injuries (just yet). Again, however, we just hope people aren't getting cleared from injuries for the sake of having to work—that's even worse than people getting injured because they work too much.
What do you think? Do you agree that Kurt Angle should stop soon? Do you think people are getting cleared just to wrestle? Let us know what you think in the comments!

Photo from TNA