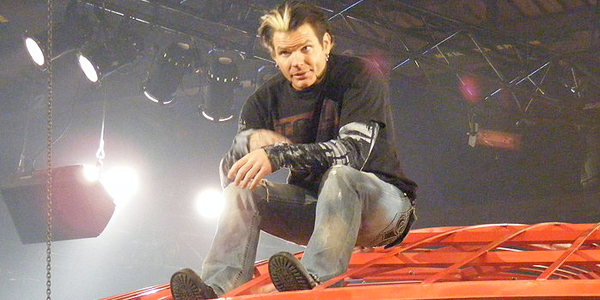 Good morning, everyone! Welcome to the Grapevine, where we round up the (technically unconfirmed) rumors from the wild world of pro wrestling that you may have missed over the evening.
We have some news on a TNA favorite:
Jeff Hardy may be out of action until late 2016 due to needing another knee surgery. He actually won't even have a timetable for his return until he has the surgery. He's apparently also told some friends that he would now need to tone down his high-risk in-ring style. (Source: WON)
We say: Despite being his bread-and-butter, this realization came about 10 or so years too late. Jeff may have been able to pop crowds with his sick high spots, but had he invested in his main event run in both the WWE and TNA by focusing on strengthening the other aspects of his in-ring work, he won't even have to need all this work done (and we're willing to bet that he wouldn't even have had to do as much drugs as he did in his career). It's a shame, considering he could be taken even more seriously if he were as well-rounded as Matt (without all of the problems Matt had to deal with, as well).
Speaking of TNA, the company is now actively pursuing free agents for its debut on POP TV next year. After losing a lot of talents, they also want to re-sign the ones they currently have along with looking for new faces in order to have a few surprises up their sleeve for their new network debut. It was noted that they're looking for people without any prior contractual obligations, as well as people preferably not signed to NJPW. (Source: WON)
We say: It's a good move, especially now that they have a great opportunity to breathe some life into their brand with the right people. There are a few indy stars out there that haven't been scooped up by WWE yet. The only concern now is handling them properly when they do show up on Impact.
Kane is scheduled to return to TV on next week's episode of RAW. Kane hasn't been on TV since Survivor Series, but had been working live events and the Tribute to the Troops tapings since then. John Cena is scheduled to return on the December 28 RAW. (Source: WrestlingInc)
We say: Kane should lose to the Wyatt Family this time. And yay, Cena's back!
What do you think? Did you enjoy Jeff Hardy's daredevil style? If not, when did it stop being entertaining for you? Let us know what you think in the comments!
Photo from TNA