We're officially in the second half of this year's 31 Days of Wrestling, and we open it with a legendary match that capped off this year's G1 Climax tournament.
#16: Hiroshi Tanahashi vs. Shinsuke Nakamura, G1 Climax 25 Finals
Nobody can pull off a marathon quite like NJPW, and no two professional wrestlers could run one quite like Tanahashi and Nakamura.
The stage was set—Hiroshi Tanahashi won his block, Block A (as though there were any doubt, even though AJ Styles was also in it), while Block B was realistically up for grabs between current IWGP Heavyweight Champion Kazuchika Okada and former (at the time) IWGP Intercontinental Champion, Shinsuke Nakamura. Nakamura, who was slotted to win Block B all along, almost didn't make it to the Finals due to a freak elbow injury that occurred early in the tournament, spurring fears that he might have to be pulled out of it.
If NJPW has a set formula for their main event singles matches, then there are no better wrestlers in the company to make the most of it than these two (and, of course, Okada himself). The match starts out slow, with both men displaying their mastery of technical wrestling. Tanahashi takes early control, slightly punishing Nakamura and his injured elbow, until the King of Strong Style manages to reverse momentum. From then on, they rev the gears up for a wild ride until the finish. Both men manage to hit their finishes plenty of times, only for the other to keep kicking out, until Tanahashi finally manages to put Nakamura away with one last decisive High Fly Flow.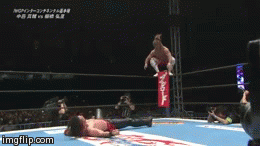 Not actually from the G1 Climax match, but close enough.
If anything, this match pretty much encapsulates everything that is going on with the New Japan main event scene: there are only truly three (four, at the most) pillars holding it up, and the bookers Jado and Gedo's refusal to create a more interesting storyline for Wrestle Kingdom 10 by sowing some intriguing dissension in CHAOS (the faction to which Nakamura and Okada both belong).
Instead, we're getting a Tanahashi/Okada rematch next year, and even though that usually results in a good match and Okada's got some personal doubts involving Tanahashi to settle in that match, we can't help but feel like it's more of the same. Even when Nakamura's loss opened the avenue for a brand-new matchup in Nakamura vs. Styles for the Intercontinental title, it's still not really elevating someone lower on the totem pole.
It's pretty clear to see why the formula exists in the first place, but something's going to have to change if they're planning on sustaining all the momentum they earned in 2015. (People really just want more Naito and Elgin.)
*****