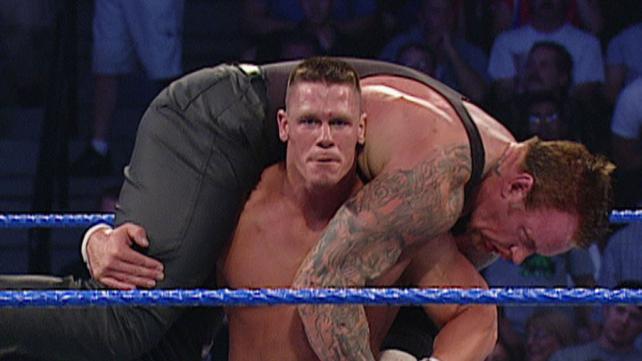 Good morning, everyone! Welcome to the Grapevine, where we round up the (technically unconfirmed) rumors from the wild world of pro wrestling that you may have missed over the weekend.
We've got more on how Seth Rollins's injury is affecting plans for WrestleMania 32:
Right now, Undertaker seems to be headed toward a match against John Cena at WrestleMania next year. The matchup had long been planned as a big-time Mania spectacle, and it seems they're finally pushing through with it. Meanwhile, Seth's injury has changed at least two matches on the card, but the company already has other plans locked down, possibly including the Rock vs. Brock Lesnar. (Source: PWInsider, WrestlingInc)
We say: This... is interesting. We'd rather see both men put over young guys so that we can finally have some new stars made around here, but if the story is right, we're down to see this match. Cena might be the best opponent Undertaker's had in years (even better, we daresay, than CM Punk) so this should be a better match than even his battles with Lesnar. We're more interested in seeing what happens to guys like Roman Reigns and Dean Ambrose now that Rollins can't figure in any of the plans.
Alberto del Rio is finishing up his non-WWE bookings. Right now he's wrapping up an angle in WWC in Puerto Rico with Ricardo Rodriguez. According to Konnan, del Rio also has two more remaining dates with AAA, and he plans to keep one or both of them. He had three when he appeared on Hell in a Cell a few weeks ago. On a related note, Konnan claims the $450,000 figure for del Rio's downside is false, implying that it's actually higher, as Alberto had been making more than that in AAA. (Source: F4WOnline, MLW Radio)
We say: We truly wonder how his relationship with AAA is right now. We think that's the only question mark left unanswered.
Michael Elgin did not re-sign with Ring of Honor. His deal expired a couple of weeks ago, as we reported, but rumors stated that he re-signed with them. WWE has expressed interest in signing him for NXT. (Source: WrestlingInc)
We say: Please, New Japan, scoop up Elgin before it's too late!
What do you think? Would you be excited to see Undertaker vs. John Cena, or should we see something else? Who would you rather these guys face? Let us know what you think in the comments!
Photo from Bleacher Report