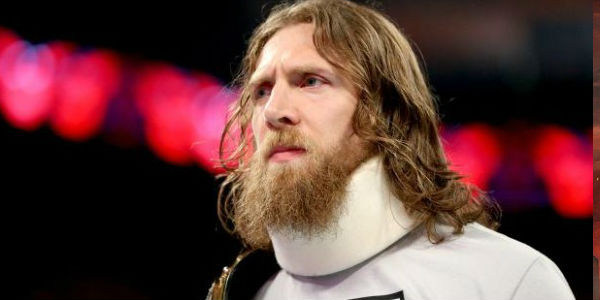 Good morning, everyone! Welcome to the Grapevine, where we round up the (technically unconfirmed) rumors from the wild world of pro wrestling that you may have missed over the evening.
There's another sad update on the whole Daniel Bryan situation, and it couldn't have come at a worse time:
WWE's head doctor is "strongly advising" Daniel Bryan never wrestle again due to his concussion history. To recap, Bryan's own doctor in Arizona has cleared him. Vince McMahon has apparently been going back-and-forth on letting Bryan return; he wants to keep him safe, but on the other hand he is aware that if he doesn't let him wrestle, he'll end up losing Bryan to another big promotion, such as NJPW. (Source: WON)
We say: This is merely reaffirming the worst fears we've had since a few months back, or since Bryan was injured again anyway. We think there could be a compromise here that's just waiting to be utilized: if Bryan really wants to wrestle, he needs to be less stubborn and stop flying and bouncing around the ring like he always does. If he was able to adapt his style to the WWE, he can adapt back to the slower, mat-based technical and strike-heavy style he became famous for in the first place. That style is coming back into vogue anyway thanks to EVOLVE. If Bryan is willing to commit to that, then Vince should consider at least trying that experiment out in a place like NXT. If they want to make this happen, somebody needs to give.
Lucha Underground is heading toward an even more fantastical direction in season two. It will apparently be more dramatic, more theatric, more supernatural, and more sci-fi. The plan is to build up a new top lucha superhero and new monster lucha heel for a spin-off movie or TV show. (Source: WON)
We say: One thing's for sure—the showrunners know their lucha libre. Our body is ready for the second season!
Brock Lesnar's contract has been renegotiated to add even more dates and even more money. His latest contract signed this year already piled on the last one. (Source: WON)
We say: This is interesting. Could this be the WWE conscripting him to work more in the absence of a top star right now?
What do you think? Should Bryan leave the WWE? Should he stop wrestling altogether to save his life? Let us know what you think in the comments!
Photo from WWE