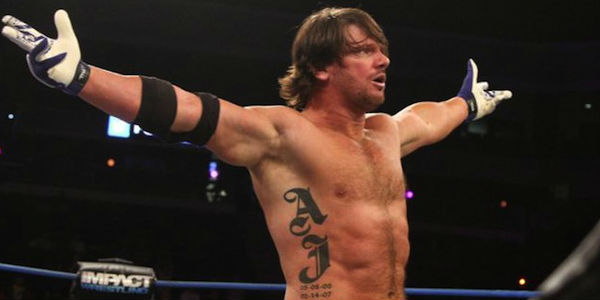 Good morning, everyone! Welcome to the Grapevine, where we round up the (technically unconfirmed) rumors from the wild world of pro wrestling that you may have missed over the evening.
Contrary to popular belief, not everyone wants to go to the WWE:
If you've heard any rumors about AJ Styles signing with NXT, it's most likely not true. There is word flying around about that possibility happening, but apparently sources close to the man believe that this is just wishful speculation, and that he doesn't really want to go to the WWE. (Source: WrestlingInc)
We say: As much as the idea of having all the stars under one big banner sounds good in theory, WWE and NXT doesn't really need AJ at this point, nor does AJ need them to validate his illustrious career. He's doing just fine in New Japan, and he seems really happy to be there.
Nikki Bella is also dealing with a hip injury. We reported that that's on top of other nagging injuries we already know of. (Source: F4WOnline)
We say: Ouch. Could this be because of the way she wrestles? If so, then it's a steep price to pay for improvement.
In some Lucha Underground Season 2 news, Big Ryck will not be returning to the show. This lines up with his rumored retirement plans, which he has also disputed recently. Argenis, whose brother Myzteziz left AAA to return to CMLL, is staying with the show as well. (Source: WrestlingInc)
We say: We know not a lot of people were fans of Ryck, but it was always interesting to see how he would match up with the smaller, faster luchadors. Some of us always thought that was a nice dynamic that never really messed up the rhythm of the lucha matches. Best of luck to Ryck in his future endeavors, we guess.
What do you think? Did you want to see AJ in NXT? Are there any other TNA/indy stars you wanted to see there, or in New Japan? Let us know what you think in the comments!
Photo from WhatCulture