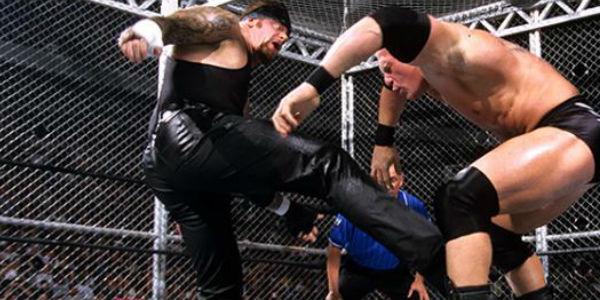 Good morning, everyone! Welcome to the Grapevine, where we round up the (technically unconfirmed) rumors from the wild world of pro wrestling that you may have missed over the evening.
The week is winding down, and we've got some interesting speculation for
Hell in a Cell
:
Could there be something bigger in the works for the final battle between Brock Lesnar and the Undertaker? While Lesnar is expected more to win the match to finally end the feud, others are expecting him to lose to set up his next feud, possibly for Wrestlemania. The consensus is that Vince wouldn't be ending such a huge program on a minor PPV without something up his sleeve. There was no angle between Stone Cold and Brock on the podcast, nor is the Rock expected to be at the show if he is to be the next opponent. There is also no word on whether Brock is scheduled to get into a program with anyone after Hell in a Cell and before Wrestlemania. (Source: WON)
We say: Seems like a lot of unnecessary worrying. Honestly, ending shenanigans are one of the biggest narrative crutches that plague the WWE right now—they always think the way to set up the next angle is to raise more questions during a big event than to answer them. This is how we got this feud in the first place, and it's a feud that would be served better with a clean finish. It's already perceived as a minor PPV, so why not give it a shine people normally wouldn't expect by having someone (Brock, preferably) win decisively? Lay this story to rest. There's always time to write a new one after this, especially if that story is for Wrestlemania.
The rumors about SmackDown going live on Tuesday nights persist. These talks are in line with SmackDown moving to the USA Network early next year, and it would be good for travel costs if the live broadcast was to be on Tuesday nights. Of course, nothing is a done deal, but the WWE does want to make changes to the show for the move. (Source: WON)
We say: Live SmackDown has historically done poorly in the ratings (mostly because the show ends up being saddled with terrible booking) but this could be an impetus for them to write the show better. There's a section of the fanbase who want SmackDown to be restored to its former glory, and the only obstacle in the way is Vince McMahon's political will (or lack thereof).
GFW could be close to landing a TV deal in the UK. This had been reported earlier, but apparently that had been a bit premature. They had been doing TV tapings without a network to air them yet. If that is the case, then Nick Aldis, the wrestler formerly known as Magnus, could become the first GFW World Champion. All champions will be crowned at this Friday's taping. (Source: WON)
We say: That's a little curious, but at least they're being proactive about it. It's looking and sounding like a TNA reboot, but we have a feeling even that would be better than TNA right now. We'll have to wait and see.
What do you think? Is something big going down at the Hell in a Cell main event? Let us know what you think in the comments!
Photo from WWE